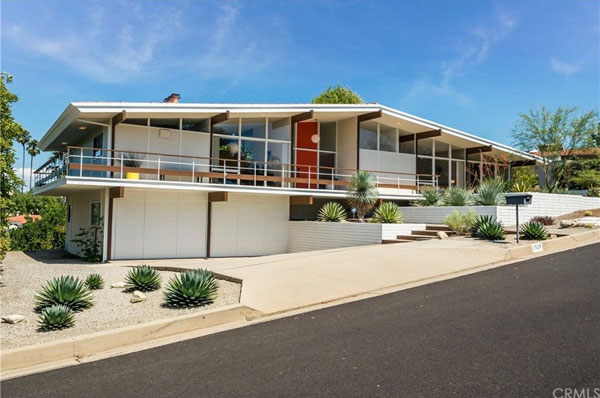 A noted piece of architecture, the 1960s Young and Remington-designed DeLeeuw Residence in Palos Verdes Estates, California, USA is still looking resplendent in 2017.
That's obviously not by accident. This is a top-end renovation job. More on that in a moment.
For now, let's focus on the house itself, which actually dates back to 1965. It was designed for a WWII veteran and his family who must have wanted something a little cutting edge. That's pretty much what they got and as this house is on the market for just the second time ever, it sounds like they enjoyed living here for quite some time too.
The second owners obviously love it every bit as much as the first, renovating the house without taking away the character of the original build.
The walls of glass, the angled / beamed ceilings, the open living spaces and original built-in units are still very much to the fore. Updates, by and large, are in keeping with the original property. Yes, there's a contemporary kitchen space, but one that works within the '60s property. Elsewhere, it's really all about updating and freshening up, with plenty of midcentury design classics scattered around the place. The end result is stunning.
As for space, there is around 2,696 sq. ft. of that, with the majority of the reception space open plan, broken up by a huge double-sided fireplace and original built-ins.
Beyond that, you'll find four bedrooms and three bathrooms, the former as stylish as the reception. Someone has spent a lot on the fixtures and fittings of this one, as well as giving a lot of thought to what would work here. Finally, the downstairs hosts an additional living area with fireplace, laundry, and bathroom.
This is the first time the DeLeeuw Residence has been offered on the open market and if you want to be the third owner, $1,825,000 is the price.
Images and details courtesy of Zillow. For more details and to make an enquiry, please visit the website.
Property Location