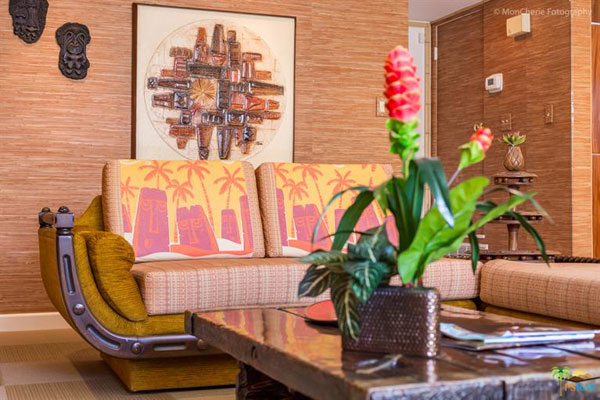 This one is pretty magical. A 1960s tiki-themed condo in Palm Springs, California, USA.
This is a class 1 historic site, described by the agent, quite rightly, as setting 'new standards for the Polynesian-inspired mid-century modern'.
Judging by the details, this is a mix of original features and repurposed vintage materials salvaged from now defunct tiki-themed establishments. There really is so much to catch the eye that it's hard to know where to start.
Let's just sum up and talk about the 'hand-carved architectural posts and wall borders', along with the bamboo detailing, fine grass-cloth wallpaper, the vintage brass, as well as the preserved terrazzo floors and the original windows/sliders.
That's before we get to the fixtures and fittings. Of course, those aren't necessarily included in the sale, so don't expect the art and collectibles to be there when you walk through the door as the new owner. But they are available to buy if you want them. We're already pining over that TV in the bedroom and that huge statue in the living room.
Oh yes, it's a house too, as well as a museum of the era. 1,289 sq. ft. of living space in total, which includes two bedrooms and two bathrooms, as well as sizeable reception space and a cool kitchen area with breakfast bar and dining area.
Oh yes, this is Palm Springs, so the outside is always going to be a selling point. In this case there's a patio area and pool for entertaining and relaxing.
If you like the idea of a tiki-filled life in Palm Springs, it comes at a cost of $419,000. Many more images on the listing.
Images and details courtesy of Estately. For more details and to make an enquiry, please visit the website.
Property Location