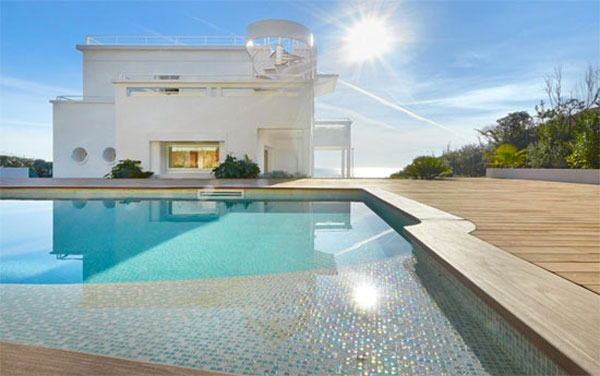 Modernist France summed up by the 30 most popular French properties featured on the WowHaus website, from the 1930s to the present day..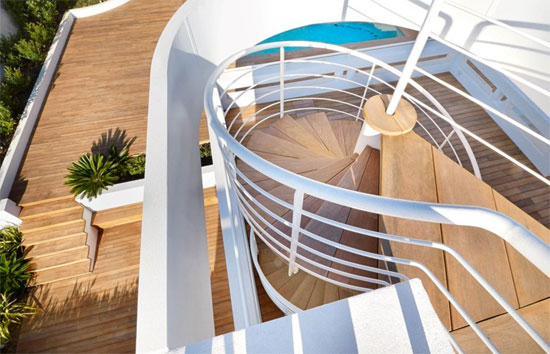 30. Art deco villa with private beach in Cap D'Antibes, Cote D'Azur, south east France (both images above)
A recently renovated piece of art deco with its own beach. What's not to love?
Great sea views, some wonderful features, modern-era styling and a stunning roof terrace. This really is the dream.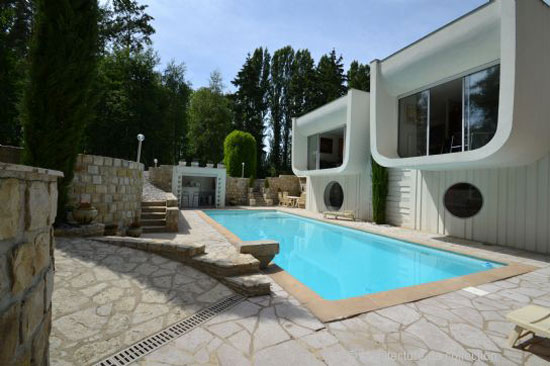 29. 1960s Paul Andreu-designed modernist property in Seine-et-Marne, Ile-de-France, France
A space age marvel just 25 minutes out of Paris.
The inside is fairly tame compared to the outside, but let's be honest, anything would be. Love those windows, the open space and of course, the pool.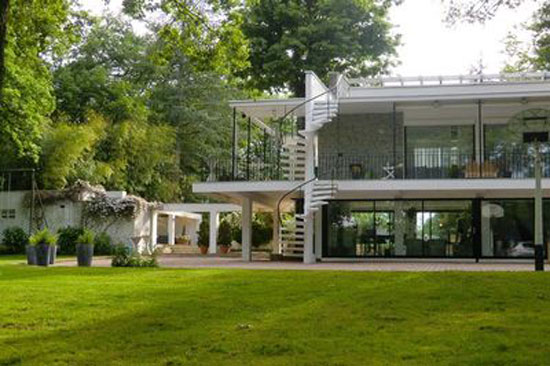 28. 1960s midcentury four-bedroom home in Tassin-la-Demi-Lune, Rhone, eastern France
This one seems to be more California than the east of France.
But this is France of course and a house dating back to 1962, with plenty of glazing, exposed stone and that amazing spiral staircase. This is where we want to spend our summer.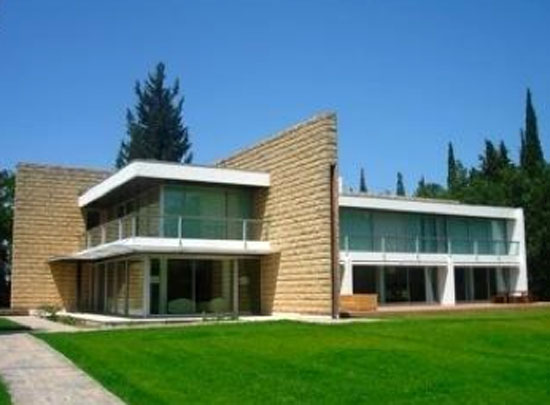 27. Armand Pellier-designed 1960s modernist property in Nimes, southern France
One of those houses you'll love or hate.
Dating back to the late 1960s, it might look a little plain to some, but we like the walls of glass and the oversized walls that punctuate the exterior. Inside, things have been updated, but nothing too radical.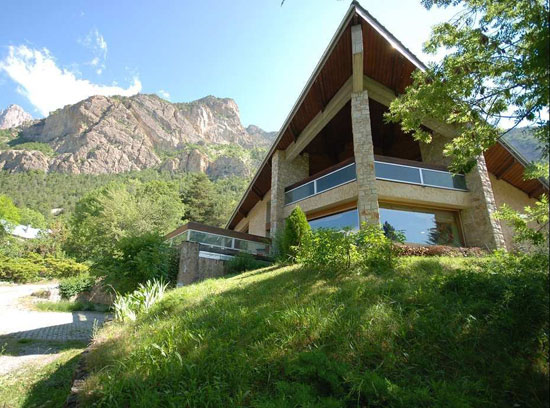 26. 1960s six-bedroom modernist property in Les Vigneaux, Hautes-Alpes, Southeastern France
Amazing house, amazing scenery.
A touch of the 'Bond villain' about this one and if anyone wants to remake a 1960s spy flick, this could be a great location to hire. Little has changed, inside and out.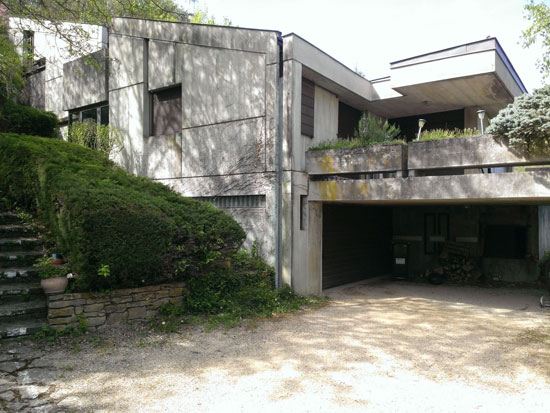 25. 1970s brutalist property in Couzon-au-Mont-d'Or, Rhone, eastern France
A brutalist property that looks lost in time. Or least, untouched / preserved over the years.
It dates back to 1978 and looking at the photos, it seems like all the detailing and the furnishings from that era are still present. If a 1970s time capsule is your thing, this place will definitely appeal.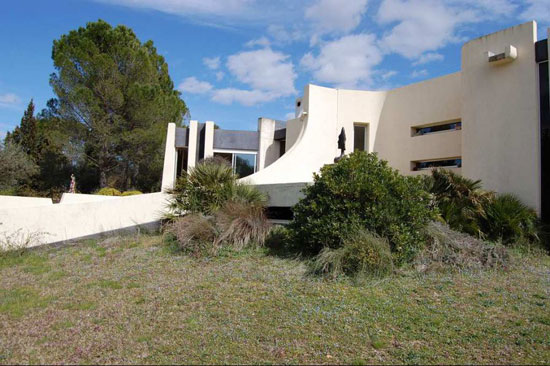 24. 1970s architect-designed brutalist property in Grabels, southern France
Another amazingly striking brutalist house.
We said at the time that it looked like the set of an old sci-fi movie, which is still the impression we have today. Love the curves, love the mural on the outside wall and especially love the bathroom.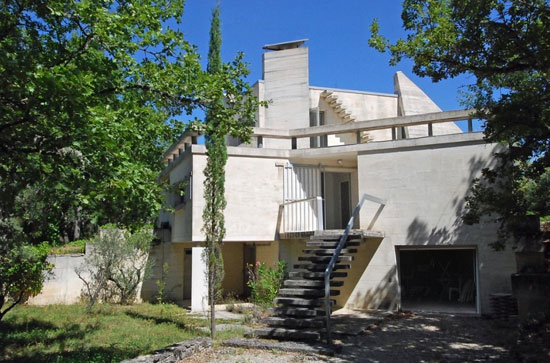 23. 1970s architect-designed Brutalist property in Saint-Michel-l'Observatoire, Alpes de Haute Provence, France
More brutalism. Plenty survives in France and it is always popular.
This one was built on the site of a former quarry for famed conductor and composer Pierre Boulez back in 1979 and while the interior is fairly low key, the concrete exterior with its balconies and staircases are still talking points.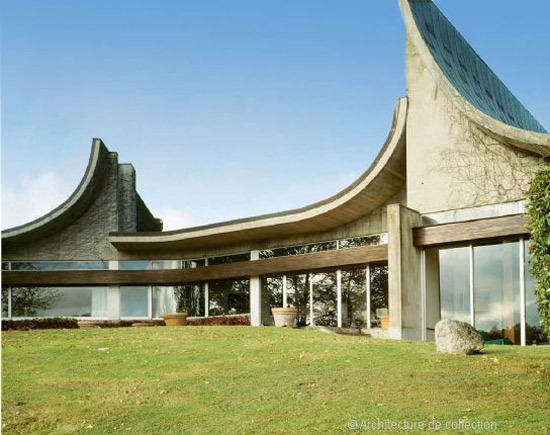 22. 1960s Claude Parent-designed modernist property in Bois-le-Roy, near Paris, France
I think we featured this one twice, as it was offered for sale on two occasions.
Both times it proved massively popular on account of that amazing roof (which looks just as impressive from the inside) and the stunning reception space. You'll have to look hard to find something even remotely similar.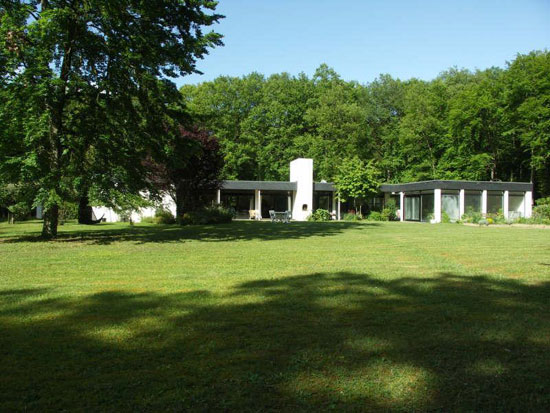 21. 1970s architect-designed single-storey modernist property in Pacy-sur-Eure, North West France
A stylish example of midcentury modernism in the north of France.
Walls of glass, lots of space, a period interior that's pretty much intact, a roof terrace and an indoor pool. Luxurious living.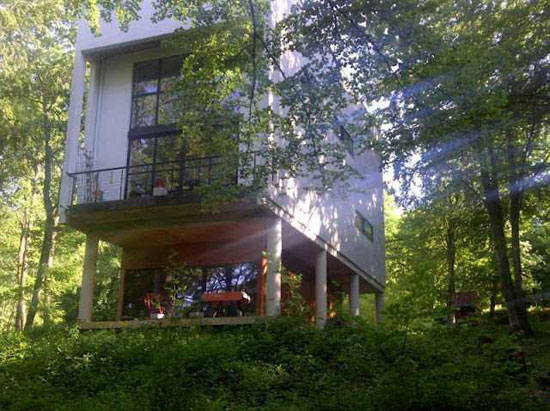 20. Le Corbusier-inspired three-bedroom house in Sougères-en-Puisaye, Burgundy, France
Inspired by Le Corbusier, not the work of the great man.
But a wonderful design in its now right. Tall, striking and with some stylishly updated accommodation within. Cheaper than you might have expected too.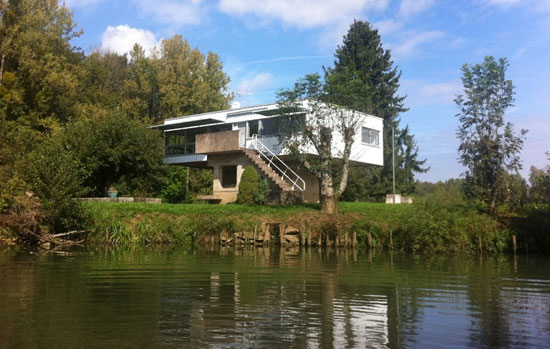 19. 1960s Andre Maisonnier-designed modernist property in Val de Saone, central France
Great house, interesting location too.
A raised property surrounded by water (on a small island) and offered at the time as a holiday let as well as for sale. You can understand why. This place definitely has the 'wow' factor and an interior updated for modern-day family needs.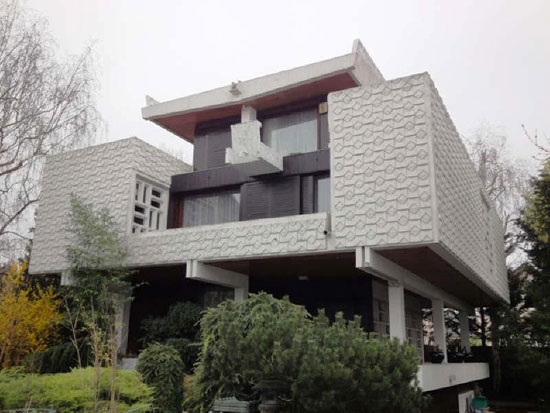 18. 1960s Three-bedroom modernist property in Soisy-sous-Montmorency, near Paris, France
Now this one really is unique.
It actually reminds us of a Transformer, although obviously pre-dating that particular phenomena. Just outside Paris, likely to be late 1960s in origin and with an interior barely changed over the years.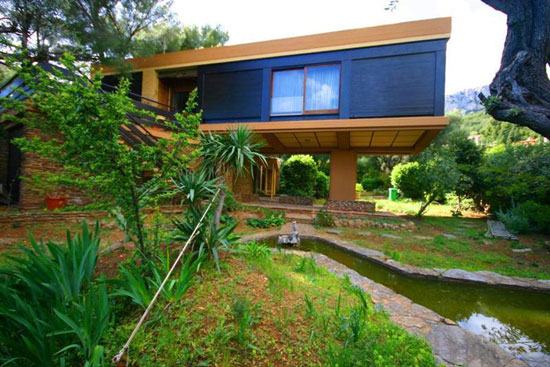 17. 1970s three-bedroom architect-designed house in Toulon, Southern France
Another house like nothing else we have seen.
Set in a quiet location and with a sea view, it also has an interior that's both original and probably in need of an update, as well as some interesting outdoor space, which is also in need of a lift.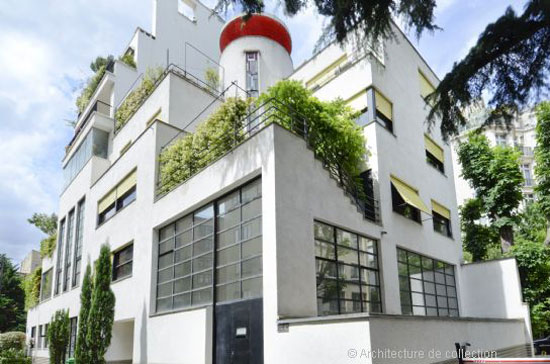 16. 1920s Robert Mallet-Stevens-designed art deco artist's studio in Paris, France
Inevitable that the name Robert Mallet-Stevens would crop up at some point.
This ground floor artist's studio was apparently created in partnership with design legend Jean Prouvé for sculptors Jan and Joël Martel and although updated, its listed status means that the architecture and decor is largely original.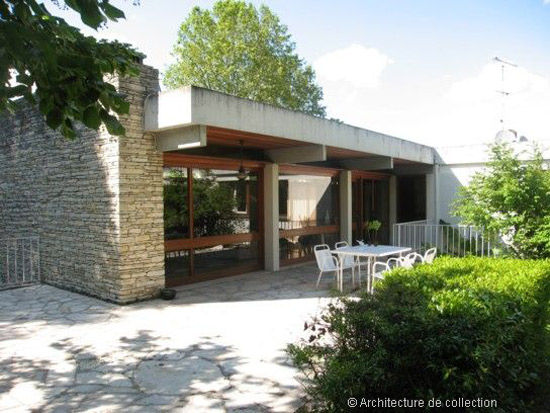 15. 1960s Edgar Broutet-designed midcentury property in Bergerac, southwestern France
It looks fairly ordinary compared to some on this page, but I think this place in the Dordogne is my personal favourite.
It was built for a (particularly hip) doctor back in 1963 and originally designed with a medical office within the property. That's been absorbed into the house since, but elsewhere, much of the detailing of the 1960s remains. Obviously a great location to live or spend time too.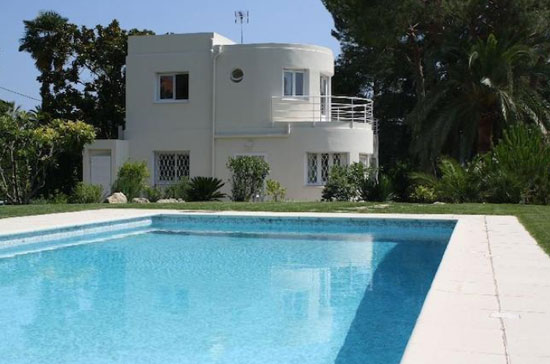 14. Three-bedroom 1930s art deco property in Antibes, southern France
The image here pretty much says it all.
A fantasy house for fantasy money (well, for most of us), this is a wonderful example of an art deco property in a sought after location and with the added bonus of that pool. A Lotto ticket away for most of us.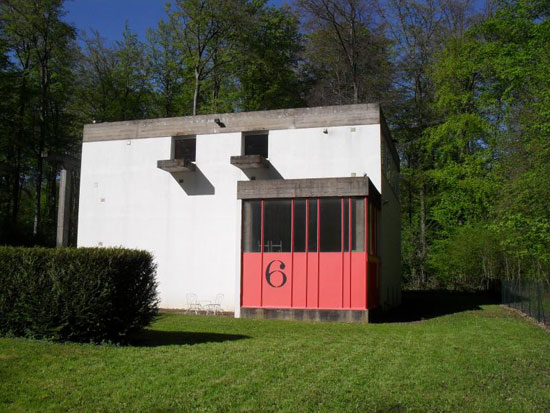 13. 1960s Le Corbusier-designed apartment and studio space in Briey, north east France
This one really took off despite its fairly modest looks.
That's because this was actually a Le Corbusier design, dating back to 1951 and said to be a self-contained space for an artist. Interesting and rather quirky.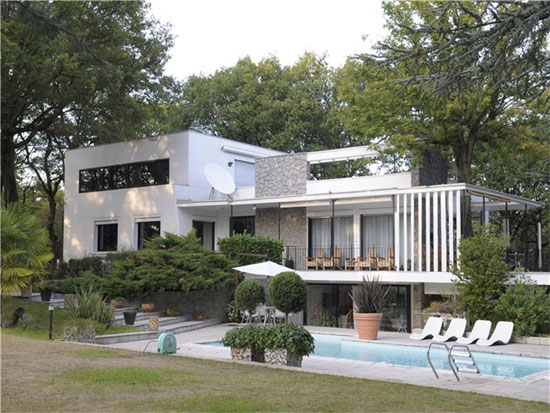 12. Midcentury modern Le Corbusier House in Tassin-la-Demi-Lune, near Lyon, eastern France
Apparently this one has been used as a backdrop for various movies.
When you see the interior, you can perhaps understand why, although the exterior and its pool space are worth mentioning too. Once inside, the space is both extensive and stylish, with plenty of notable features. Love that spiral staircase.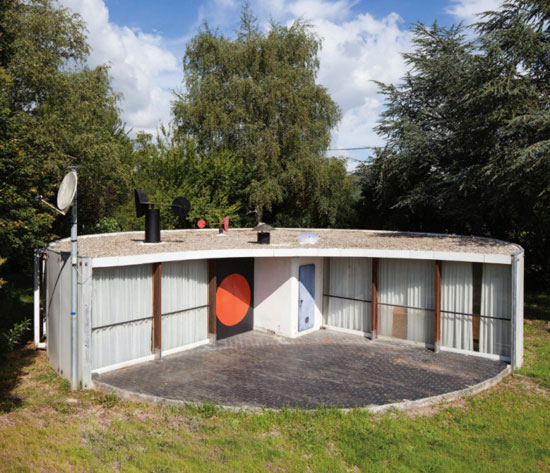 11. 1960s Serge Binotto-designed circular property in Mirepoix, Ariege, south west France
Perhaps the smallest house in the listing.
But interesting nonetheless. It dates to 1969 and was the work of Serge Binotto, designing the house for his parents. Binotto was the assistant to iconic designer Jean Prouve, with the house said to follow the principles of the Prouve workshop. Updated, but still a house with a certain uniqueness.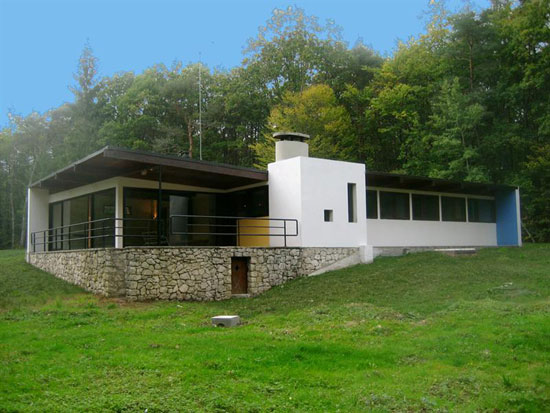 10. 1960s Le Corbusier-inspired modernist property in Gatinais-Orleans, central France
So many French houses are listed as 'Le Corbusier-inspired'. Here's another.
The architecture is a selling point, but so is the untouched interior, perfect if you want something 'retro'. Oh yes, a studio area here too, as well as soundproofing, suggesting that this might well have been the home of a 1960s Gallic rock god.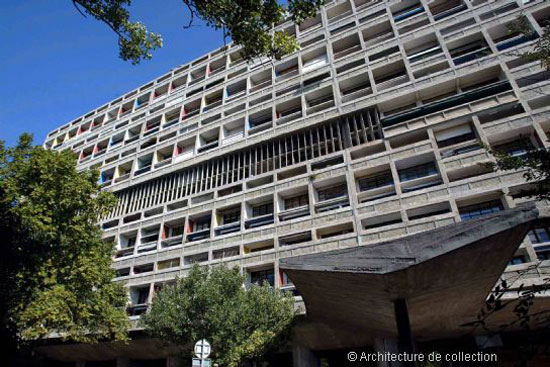 9. Three-bedroom apartment in the Le Corbusier-designed Cité Radieuse in Marseille, France
No inspiration here, this is genuine Le Corbusier.
An icon of French modernism and the most famous of the Unité d'habitation designs, this was built between 1947 and 1952 and is listed in France as well as being lined up for designation as a World Heritage site by UNESCO. In light of that, the apartment here was remarkably cheap, especially with access to a shopping arcade with shops and a hotel, a nursery school, a solarium, a swimming pool and open-air theatre on the roof.
Find out more about the apartment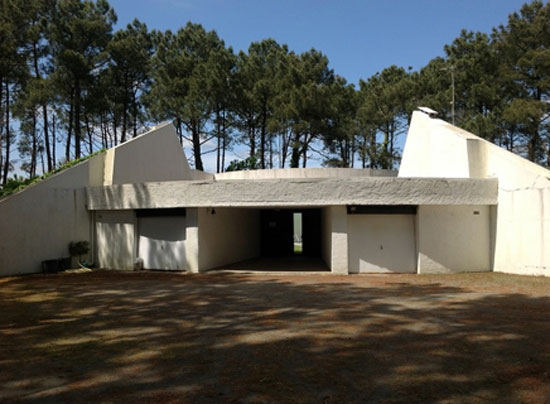 8. 1970s Roger Le Flanchec-designed modernist property in Baden, Brittany in north west France
Another of my personal favourites. I'm glad so many of you agree.
A 1970s brutalist reworking of a cave, would you believe. One with a wood ceiling, stained glass windows, lots of open space and a concrete terrace. Bold architecture that still turns heads today.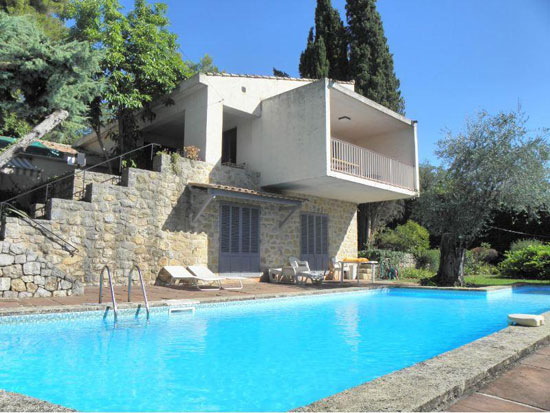 7. 1960s modernist villa in Grasse, Cote d'Azur, south east France
If I'm honest, I am surprised this one made it so high.
Not there is anything wrong with it. I guess the mix of the old and the new with a pool in the Cote d'Azur is a winning combination. The interior was down as needing a refresh, but looking at it again, we have seen much, much worse.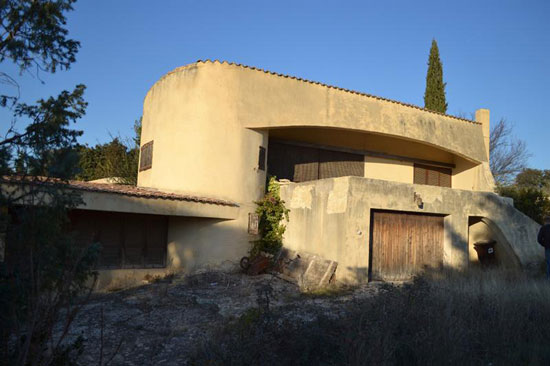 6. 1970s architect-designed modernist villa in Uzes, Southern France
Renovation projects always prove popular, especially when the source material looks like this.
Yes, the render is showing its age, but the space is ripe for a refresh, with plenty of original structural details still in place. It just needs investment and a little vision.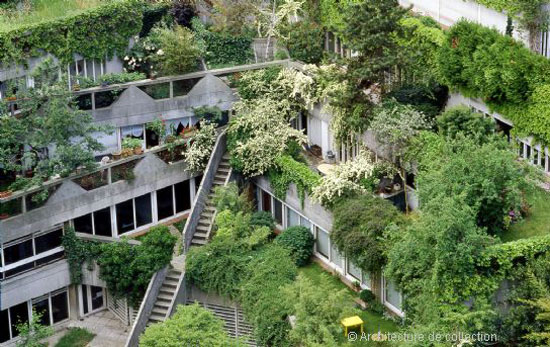 5. Apartment in the 1970s Jean Renaudie-designed brutalist development in Ivry sur Seine, near Paris, France
This development always blows me away.
Located on the outskirts of Paris and built from the late 1960s into the 1970s, this was the work of Jean Renaudie alongside his wife Renée Gailhoustet. It's a mix of private and public space, predominantly in concrete, with gardens, terraces and vegetation breaking up the 'brutal' construction. The apartment is quite tame in comparison to the estate, but it does offer potential to improve.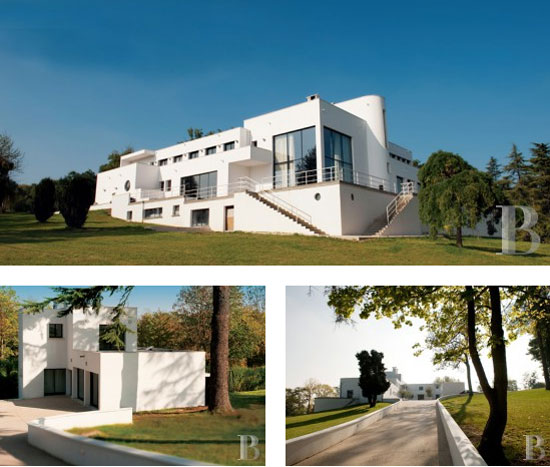 4. Listed 1920s Robert Mallet-Stevens-designed art deco Villa Poiret property in Île-de-France, near Paris, France
That man again with another art deco gem.
Sat around 25 miles out of Paris, it was originally designed by Robert Mallet-Stevens for fashion designer Paul Poiret, with building starting in 1923. Unfortunately, the house, one of three designed by Mallet-Stevens in France, never got completed at the time due to Poiret's bankruptcy. In the post-war years it was completed, with renovation undertaken more recently. A strong job, I'm sure you'll agree.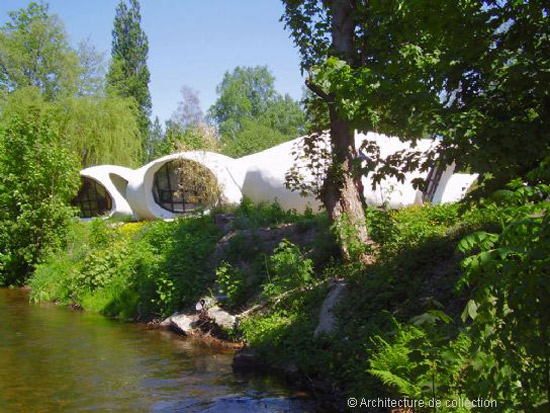 3. 1960s Pascal Hausermann-designed space age bubble houses in Raon-l'Etape, north eastern France
Not just one house, this is an entire development.
Nine domed houses around a central building. Essentially creating a small village. They fell out of fashion a few years after construction, but were later renovated and rented out and more recently, offered for sale. €800,000 was the asking price of the lot.
Find out more about the houses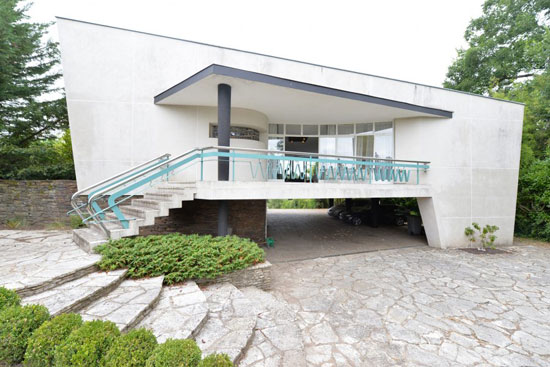 2. 1950s Georges Lacaze-designed modernist property in Bergerac, Dordogne, France
This one was incredibly popular – and for good reason.
It was designed between 1956 and 1959 by the architect Georges Lacaze alongside his partner John Paul Pic. It has been a listed historic monument in France since 2008.
If you want to know why, just check out the kitchen and the pool area. The whole house has been maintained immaculately, both inside and out and is a true one-off as a result. The 1950s modernist dream.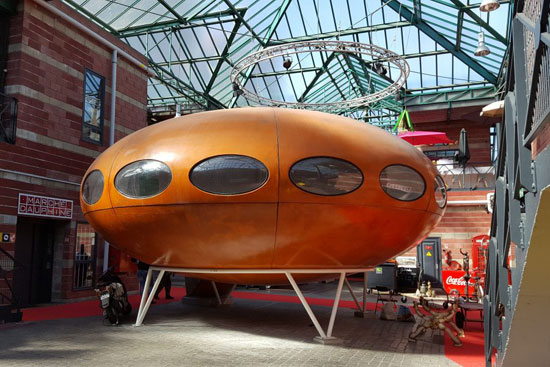 1. A fully preserved 1960s Matti Suurinen-designed Futuro House in France
I wasn't sure whether to include this, but the Matti Suurinen-designed Futuro House you see here broke all traffic records and is based in France. So it just makes the cut.
Yes, a Futuro House, which seems to be everyone's dream when it comes to space age living. This one has been preserved, with the original 'Futoro' sleeper chairs still in place. All you need is the space to house it. The dream guest space, holiday home or even home office if you have the money or the land.
That's all for now, but if you want more, do check out the France section of the WowHaus website.
Save