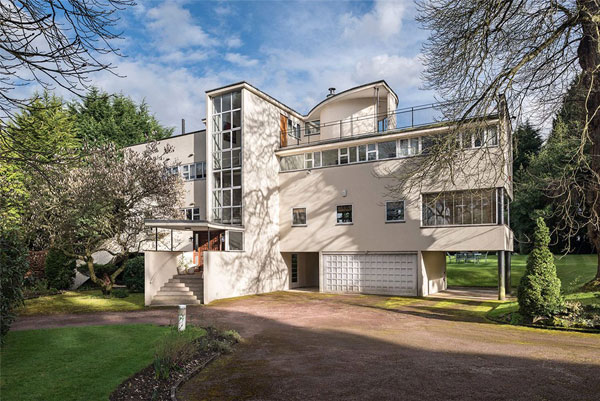 Something very special. This 1930s Connell, Ward and Lucas-designed modernist property in Rickmansworth, Hertfordshire is now on the market.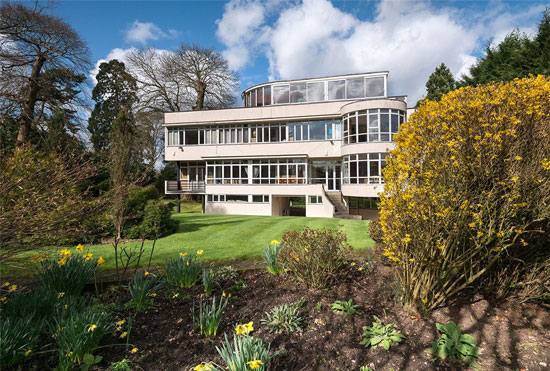 Of course, the architecture practice has been responsible for some of the most important 20th century houses in the UK, as well as the some of the most popular properties featured on this site.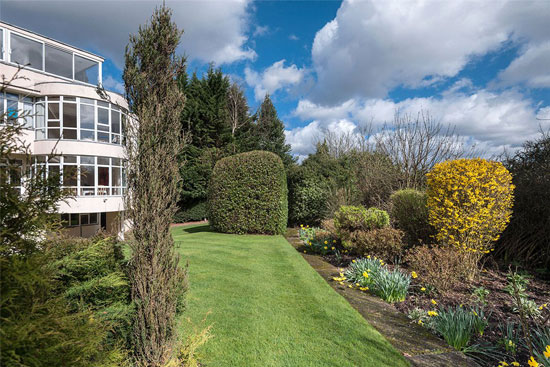 That includes the likes of High & Over in Amersham, the accompanying Sun Houses and Usherwood in Dorking to name just a few. Scan the archives for more.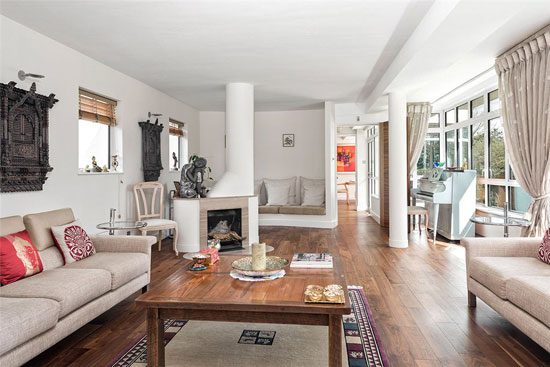 But before you do that, check out this one. Dating back to 1937, grade II-listed and quite simply, a stunning piece of architecture.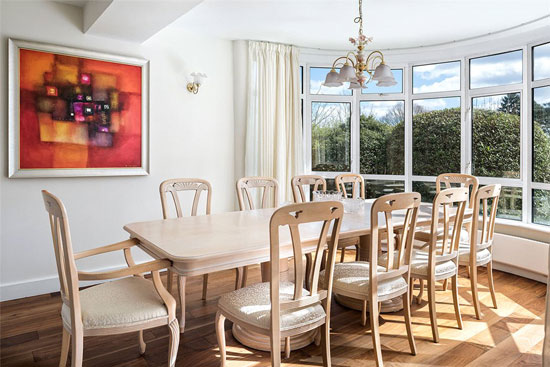 International in style, this modernist gem is striking for so many reasons. But the angular frontage, open stairway and wonderful entrance are worth talking about, as is the glazing at the front. But that's nothing compared to the glass at the rear.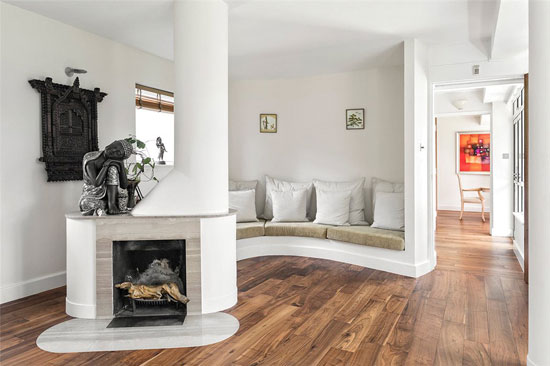 Of course, when you have gardens as stunning as this, you want to look at them from pretty much every room. You certainly have that option here. Walls of glass, those curved feature windows and an upper floor that pretty much is glass. Just thinking about the window cleaning bill breaks me out in a cold sweat.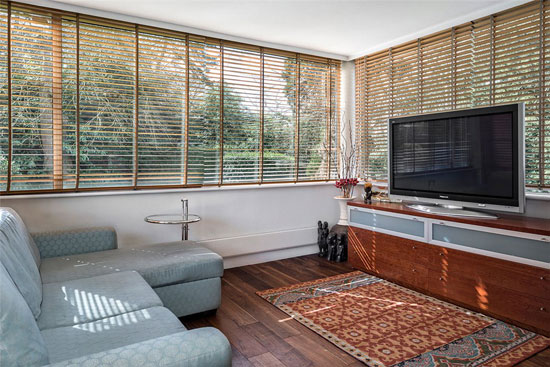 Looking at the interior, it isn't clear just how much originality is here. Yes, this place has been updated / renovated over the years and thankfully without taking away anything from the building itself. But there is a lot going on inside, so hard to spot anything period.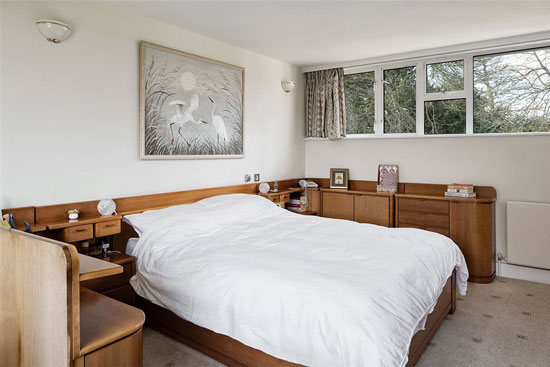 We did spot what looks liker original flooring, but the majority of fixtures and fittings looks relatively recent. As do the windows too. Which might not be a bad thing when you consider how much it would cost to replace the number of old windows here.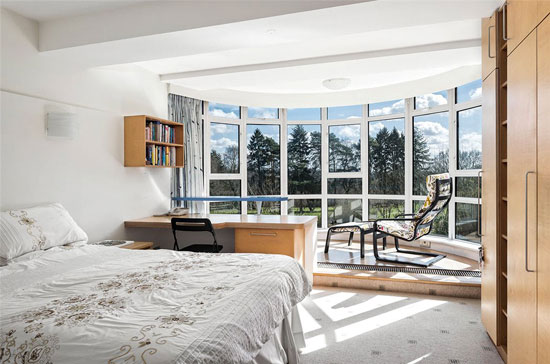 Generally, I think it's safe to say that the building is very much of the first half of the 20th century, the interior more in keeping with the latter part and into the 21st century. But do view if it's of genuine interest and that is an issue as the images might be misleading.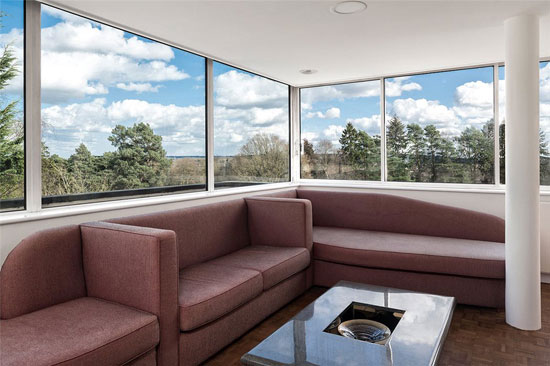 Lots of space of course. The ground floor features an entrance hall, an inner hallway, utility, shower room and cloakroom. Hop up a floor and you will find the sitting room, dining room, a TV room with balcony and the kitchen with breakfast room.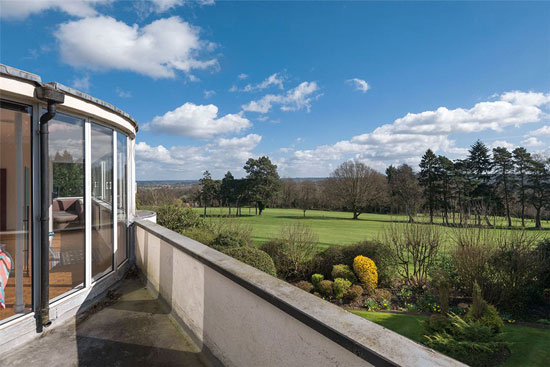 A second floor offers up a master bedroom with walk-in wardrobe and en-suite shower room, four further bedrooms, a family shower room and a family bathroom. Finally, the third floor has a sixth bedroom with terrace, a sitting area with terrace and shower room.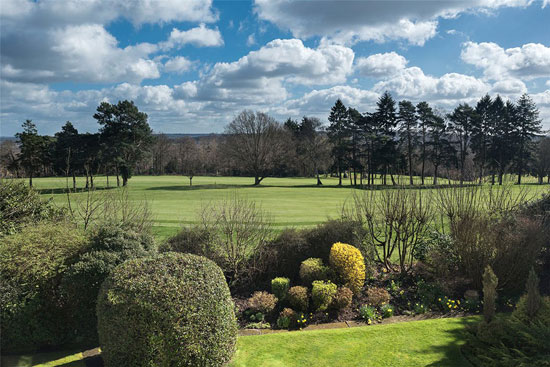 As you might have noticed, plenty of land outside too. 0.6 acres of wonderful garden, as well as a double garage and driveway.
£3,000,000 is the asking price. Well, it was never going to be cheap.
Images and details courtesy of Knight Frank. For more details and to make an enquiry, please visit the website.
Property Location