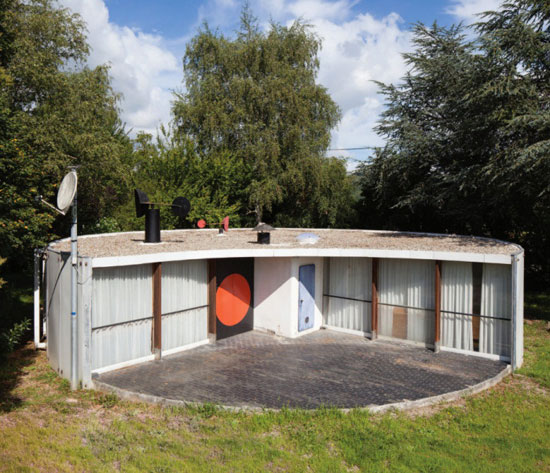 As you probably know, we are working through the WowHaus Top 50 of 2016, the most popular property finds of the year on the WowHaus site. Yesterday we featured numbers 50 – 41 and today we are featuring numbers 40 – 31. As ever, in reverse order.
40. 1960s Serge Binotto-designed circular property in Mirepoix, Ariege, south west France (pictured above)
We were so glad this proved popular, as it was one of our favourite finds of the year.
A one-off 1960s home designed by the assistant to iconic designer Jean Prouve, this is a circular place with pretty much everything you need within this small space. Perfect holiday home? Definitely, especially at the price.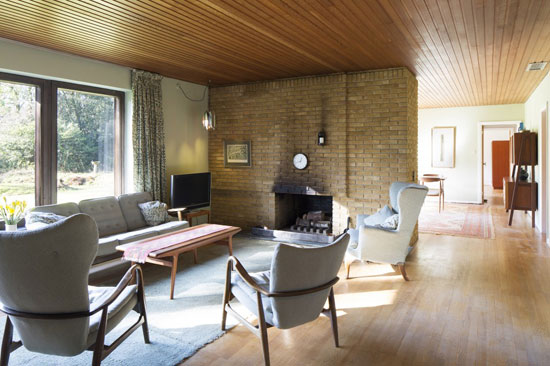 39. 1960s Aage & Carol Moller-designed Scandinavian-style property in Plummers Plain, West Sussex
Scandinavian modernism in the heart of Sussex.
In fact, untouched modernism, with little change since 1968. From the wood and exposed brick though to the glazing and the fittings, this is a dream of a home that just needs a couple of updates to achieve perfection.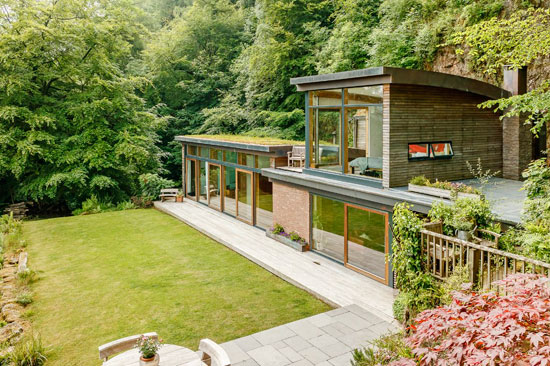 38. Contemporary modernist property in Symonds Yat, near Ross on Wye, Herefordshire
Similar in some ways to the last one. But a far more modern affair.
Once again, it's all about the wood, the glazing and the views. In fact, the high vantage point creates some epic views from pretty much every room in the house. That's the wow factor.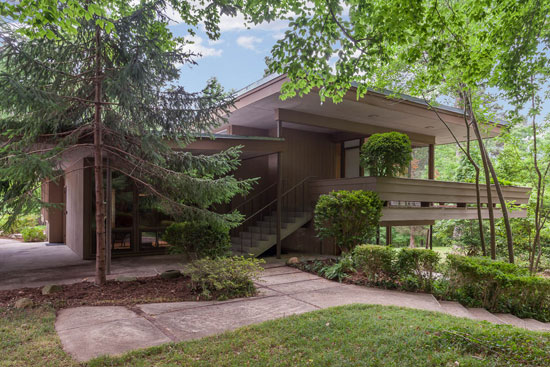 37. James Taylor's 1950s midcentury home in Chapel Hill, North Carolina, USA
Even without the famous name this would be a desirable house.
But of course, it has the James Taylor connection, which no doubt adds something into the mix. Outside of that is a design inspired by the work of Frank Lloyd Wright and still very much of its era, with wood-panel walls, a split level reception, full length windows and a wonderful balcony area as key selling points.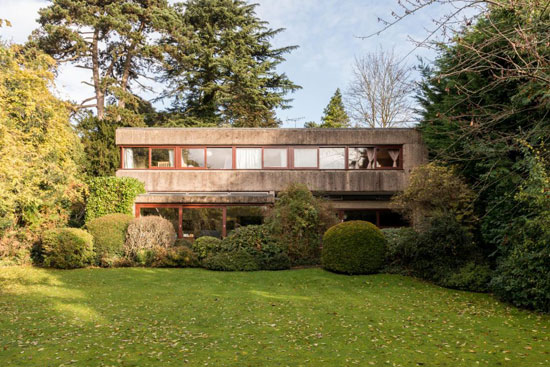 36. 1960s Gerd Kaufmann-designed brutalist property in Stanmore, Middlesex
A very recent find, which perhaps shows just how popular this one was.
Set in a secluded location, this 1967 build is largely unchanged over 50 or so years. So a wonderful brutalist exterior and a softer midcentury interior with all the fittings still in place. It needs work, but not a great deal to our eyes.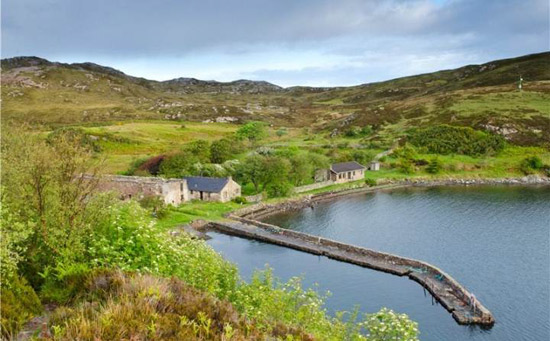 35. Tanera Mor Wicker Man island in the Inner Hebrides, Scotland
And now for something completely different. An island.
Not just any island, this is the one that inspired the Wicker Man movie. It is an 800 acre island, the largest of the 'Summer Isles' in Scotland, complete with self-catering holiday lets, plus access to a post office, cafe and sailing school and so much more. Basically, your very own kingdom.
Find out more about the island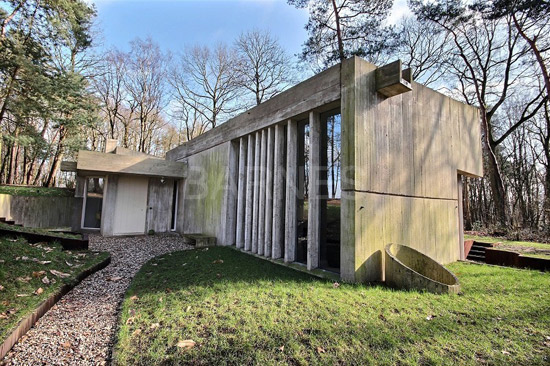 34. 1970s Marc Corbiau-designed brutalist property in Glabais, Belgium
More brutalism, this time in mainland Europe.
A bold concrete structure with heavy glazing and although updated within, still packing a punch, especially with the period furnishings dotted around the place.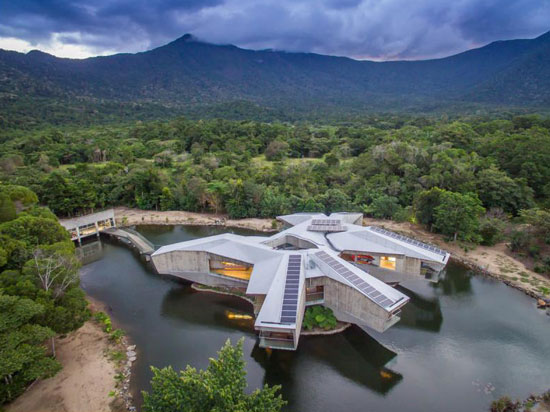 33. Charles Wright-designed Alkira brutalist property in Cape Tribulation, Queensland, Australia
It looks like an alien spacecraft or something from the future. But this is actually a house, one that was up for sale in 2016.
Dating back to 2014, it has a large open air living area connecting the five timber-lined bedroom wings, each with en-suite Chillagoe marble bathrooms. A plunge pool too, plus somewhere to park your car if you cross the bridge onto dry land. This is 'wow' in so many ways.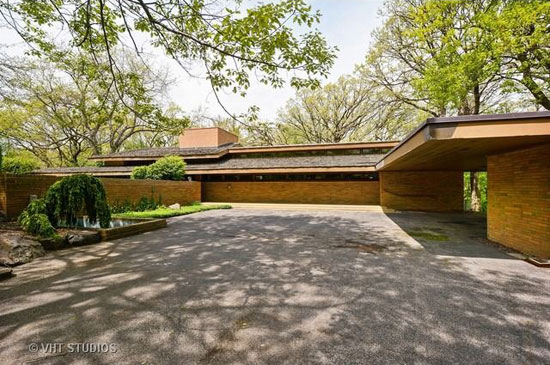 32. 1950s Frank Lloyd Wright-designed Louis B. Frederick House in Barrington Hills, Illinois, USA
Yes, another entry for Frank Lloyd Wright, this one dating back to 1958.
It has been in the same family since that date too, with the interior both unchanged and dramatic. Gallery halls, vaulted ceilings, cement floors and clerestory windows, along with mahogany and rosewood cabinetry, exposed brickwork and feature fireplaces. This place has it all.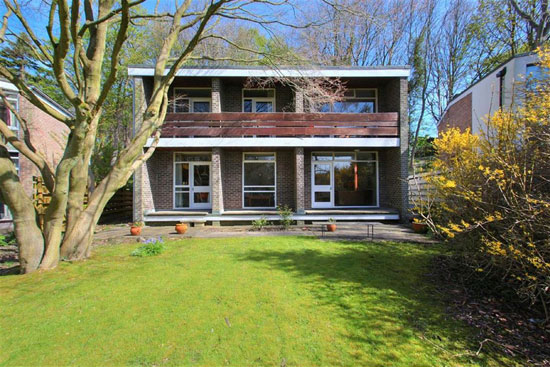 31. 1960s modernist property in Sheffield, South Yorkshire
Sheffield has some lovely modernist houses tucked away, including this one.
It dates back to 1967 and was designed and built by the current owners. It has been looked after well over the decades and although a couple of things might need an update, overall this is an incredibly cool house that translates well into the 21st century.