Best of US Midcentury Modern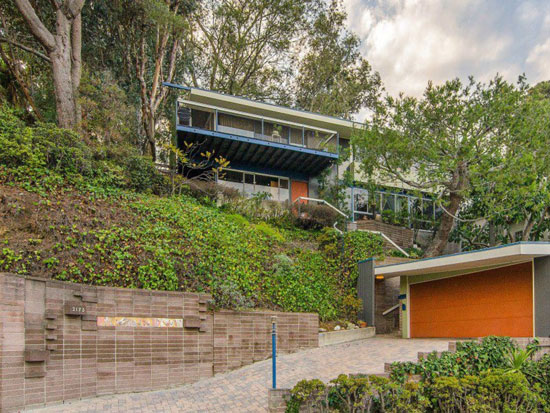 We have covered the most popular art deco finds and the pick of the 1960s UK modernist homes. Now it is time to show some love to the US, specifically with the 30 most popular US Midcentury Modern house finds. As ever, the listing is in reverse order and for sake of argument, we have also included modernist houses from the period.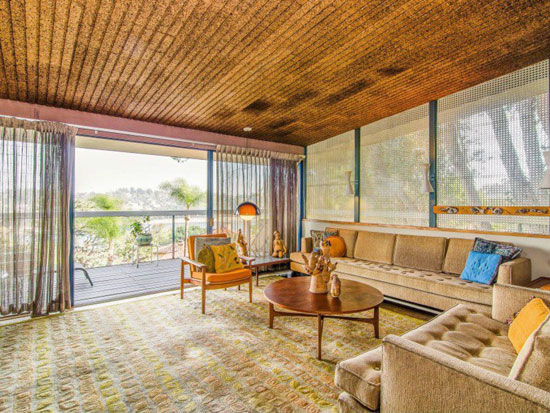 30. 1950s Al Martin-designed midcentury modern property in Los Angeles, California, USA
Kicking things off is am amazing time capsule from 1954.
Perched on a hill and offered for sale for the first time, this place has a striking look, full-height glazing and all the original finishing, not to mention the furnishings. We would love to know this place survived in this state.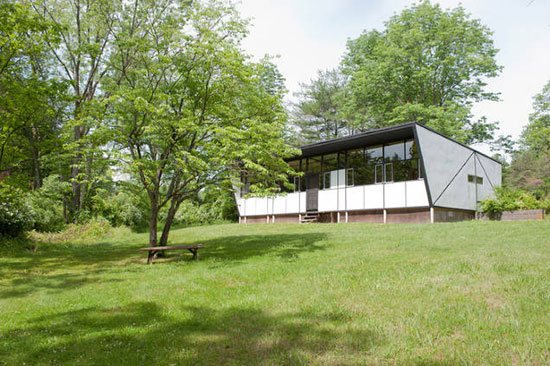 29. 1950s Jules Gregory-designed The Butterfly House in Delaware Township, Hunterdon County, New Jersey, USA
Another house from the 1950s that looked pretty much untouched.
It was sold with the original plans, but judging by the shots, you probably didn't need them. All this house needed was a modest refresh to bring it back to its best. The asking price was modest too.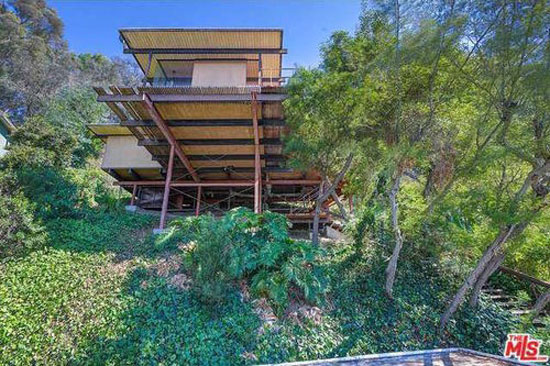 28. 1960s Raul Garduno-designed hillside midcentury property in Los Angeles, California, USA
For drama, this place couldn't be beaten.
A spectacular open plan house with views to match, as well as much of the original finish still intact. If you had a head for heights, it could have been your dream home.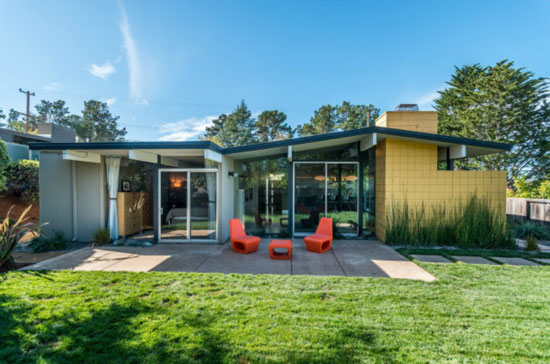 27. Four-bedroom 1950s midcentury Eichler home in San Mateo, California, USA
Genuinely surprised we didn't have more Eichlers in the rundown. Thankfully this one is a great representative for the rest.
It show just how impressive these properties can be if you do the right renovation work, looking after the original details whilst adding in some modern-era functionality. A great job.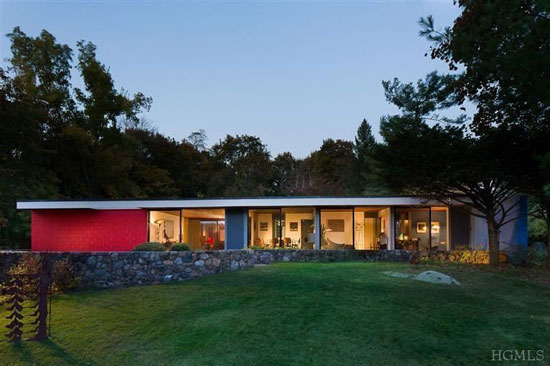 26. 1950s Marcel Breuer-designed midcentury-modern property in Croton-On-Hudson, New York State, USA
Of course Marcel Breuer would be in our listing. Although this isn't the most obvious choice.
It did prove popular though, perhaps because (and you can see a theme developing here) it has so much of the original period detail intact. It also has some great views and a Breuer-designed swimming pool as a nice bonus.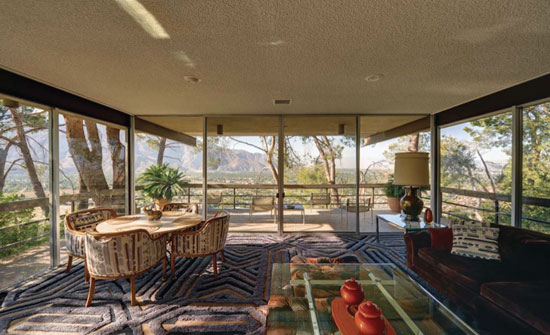 25. 1960s Hugh M. Kaptur-designed The McQueen House in Palm Springs, California, USA – the former home of Steve McQueen
Star power is always a pull. But great architecture alongside also helps.
This was a substantial out of town hangout for McQueen in a midcentury style and still faithful to the McQueen era today. Or at least, it was when it hit the market.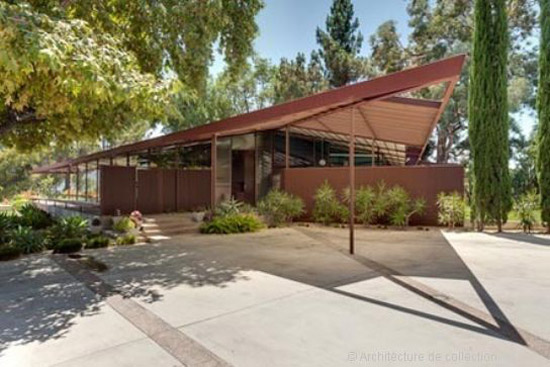 24. 1950s Rodney Walker-designed Walker Residence in Ojai, California, USA
Always nice to see the houses architects design for themselves. Like this one, for example.
Walker, was, of course, one of the key participants in the California Case Study Program with this house very much in that vein. A bold triangular build designed for indoor / outdoor living with amazing views from its hilltop location. A dream of a house.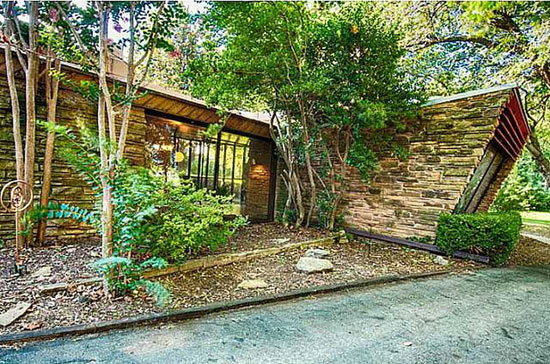 23. 1940s midcentury property in Yukon, Oklahoma, USA
When to comes to renovation projects, this one was hard to beat.
An early example of MCM with butterfly roof, it was sold with work still required to being it back to its best. Hopefully someone took care of that and turned it back into a hip family home.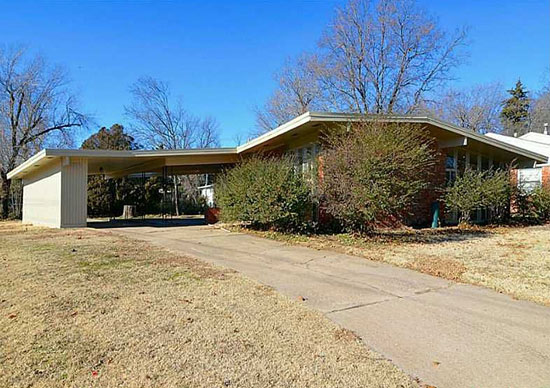 22. 1950s Cecil Stanfield-designed midcentury modern property in Tulsa, Oklahoma, USA
Sometimes it is all about the asking price.
Not that there is anything wrong with this house. On the contrary, it's an interesting midcentury build and still packing the character of the era. But what really caught the eye was the $130,000 asking price (£78k in the UK).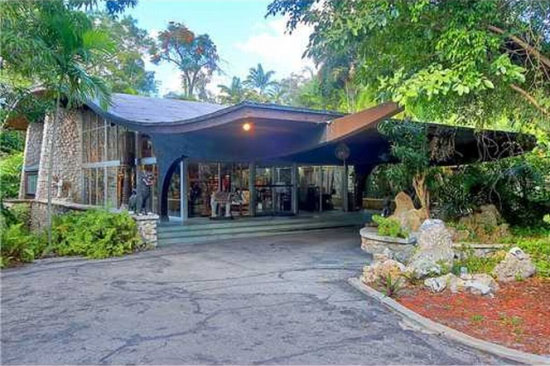 21. Otto F.Seeler-designed 1960s midcentury house and movie location in Coconut Grove, Miami, Florida
A party pad and once the home of Baron Joseph 'Sepy' De Bicske Dobronyi, aka Miami's version of Hugh Hefner.
A celebrity hangout back in the day and a movie set both then and in later years. Still quirky, still cool and still with that look of the 1960s.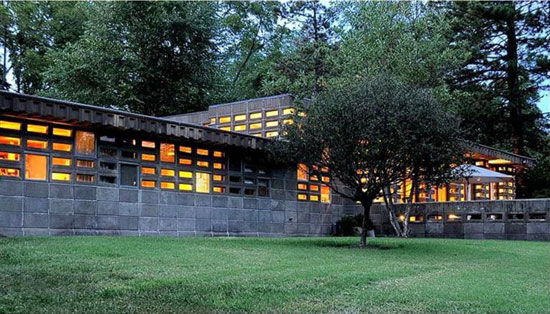 20. 1950s Frank Lloyd Wright-designed Gerald B. Tonkens House in Cincinnati, Ohio
Of course FLW is in our listing. And not just the once.
This first appearance was built in 1955 for Gerald B. Tonkens and built by Wright's grandson, Eric Lloyd Wright. Sympathetically updated, but the custom detail is thankfully intact.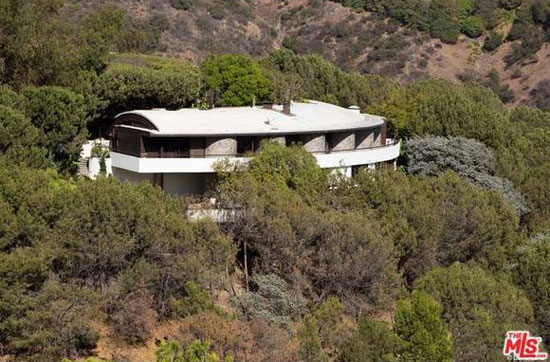 19. 1980s John Lautner-designed Alden Schwimmer Residence in Beverly Hills, California, USA
Possibly a little late for MCM, but we thought this Lautner design should make the cut.
Described as a modern hilltop castle, it it has amazing views and an interior of wood and stone that echoes the midcentury era. Big money, of course.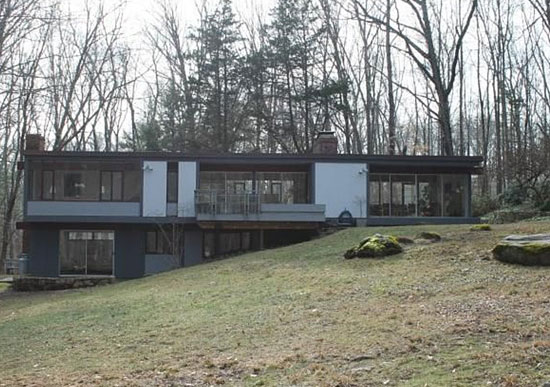 18. 1960s Thomas H. Fleming-designed midcentury modern property in Weston, Connecticut, USA
A striking house with a stylish makeover.
Or at least, renovation. Built into a hill, this house has been upgraded with the original era in mind, producing something very cool and liveable in the process. A wonderful family home.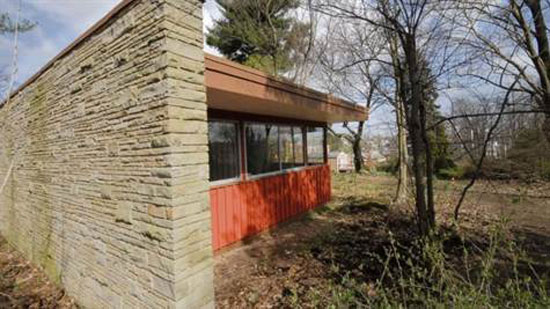 17. 1960s Richard Neutra-designed midcentury modern property in Uniontown, Pennsylvania, USA
This Neutra design had a ridiculously low asking price. Hence the interest.
Yes, it needed work, but much of the original design survived and at $185,000 (£112k at the time), this was a chance to get a top end designer house for low end money.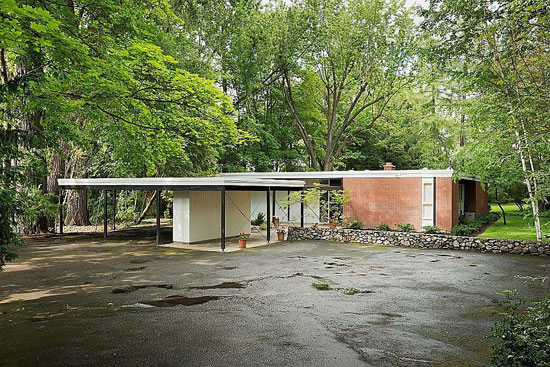 16. 1950s Bruce Walker-designed midcentury modern Ferris House in Spokane, Washington state, USA
Everything you want from a midcentury modern home.
An interesting, open and flowing design, period features in place, plus some killer details like the fireplace and room dividers. Always going to be popular.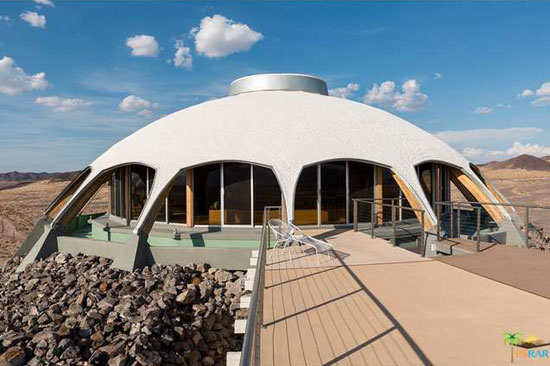 15. 1970s space age Volcano House in Newberry Springs, California, USA
No, this isn't a spacecraft, it's a living space with a real 'wow' factor.
A flying saucer-shaped house on top of a volcanic cinder cone in the desert. If that isn't enough, the interior is the midcentury dream. Check out the living room, which is a jaw dropping space.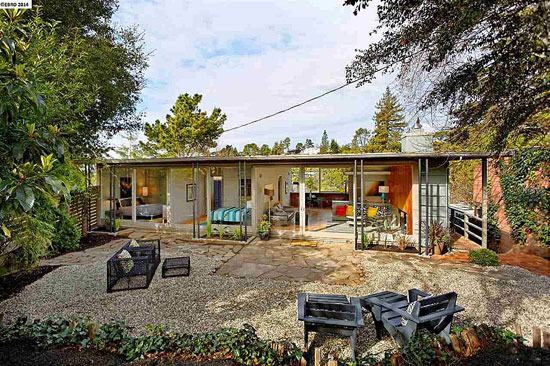 14. 1940s two-bedroom midcentury modern property in Berkeley, California, USA
Can a house be cute? Because that's thew word I'm getting when I see this place.
Not the biggest of places, but incredibly well maintained / renovated. Love the wall of glass to the rear.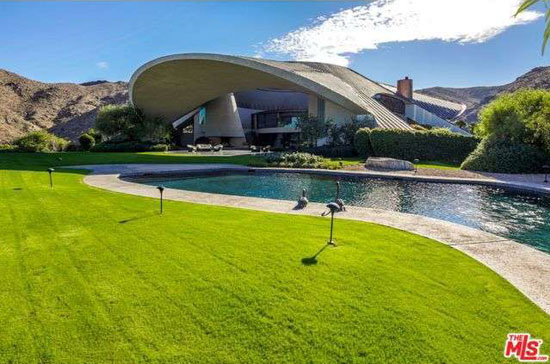 13. 1980s John Lautner-designed Bob & Dolores Hope Estate in Palm Springs, California, USA
I'm pretty sure this sold the other week. Lucky buyer.
Like something dropped in from the future, this is the largest private residence designed by Lautner. Just stunning – and that's before you get to the outside space with tennis court, pool, two spas and a waterfall.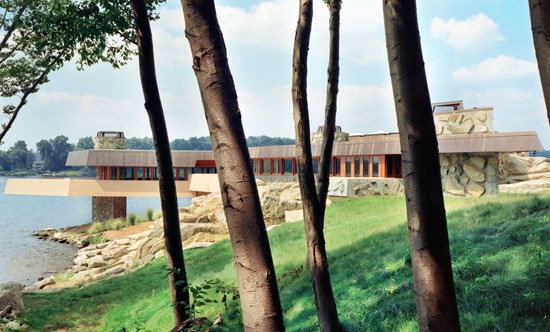 12. Frank Lloyd Wright-designed house on Petre island, Lake Mahopac, New York, USA
Controversial house time, as this place was built in 2004.
The hour was commissioned long before that, with FLW doing the plans for the 5,000 sq. ft. property decades before. The owner couldn't afford to have it built, so the plan and the site were left on hold before both were bought in the 1990s. There may be questions over its authenticity, but it is still a striking place.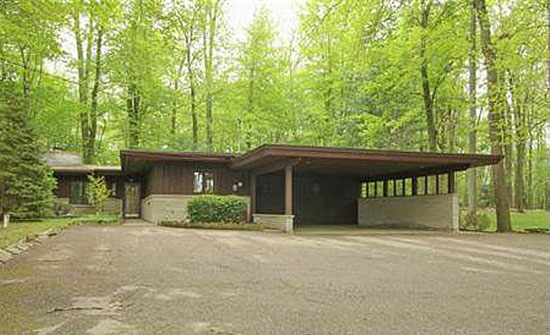 11. 1950s Frank Lloyd Wright-inspired three-bedroom property in Battle Creek, Missouri, USA
More FLW? Not quite.
This is a design inspired by the work of the great man and something of a time capsule of the era. Another where price was a key factor in its appeal too.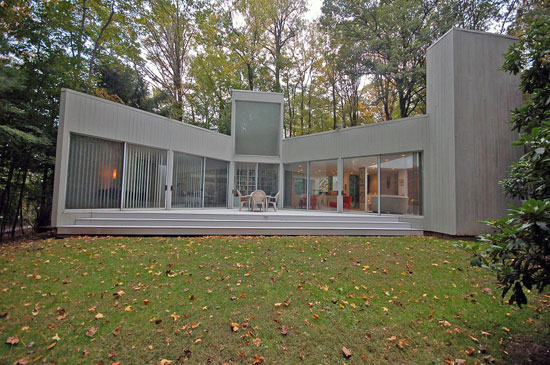 10. 1970s Myron Goldfinger-designed modernist property in West Orange, New Jersey, USA
Once the future, this house is now something a a retro property.
Interesting though, with that curved front, glazed rear and stylish interior. Perhaps more modernist than midcentury, but worthy of inclusion.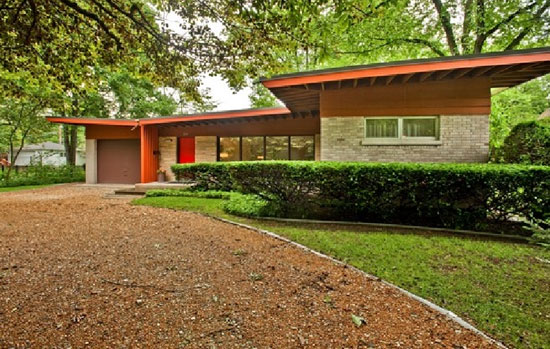 9. 1950s Vladimir Novak-designed midcentury modern property in East Glenview, Illinois, USA
Genuinely surprised this one made it so far upstream.
I think its popularity is down to its exterior design, although there isn't anything wrong with the interior. Far from it, as this place has had an extensive upgrade of late. A lovely example, but surprising to see it in the top 10.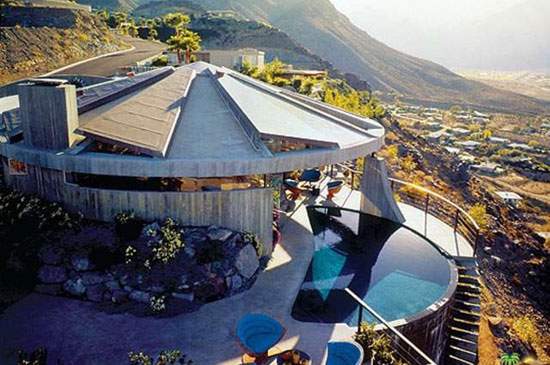 8. Bond classic: 1960s John Lautner-designed Elrod House in Palm Springs, California, USA
Yes, THAT Bond house.
Willard Whyte's mansion from Diamonds Are Forever went on the market and we all jumped for joy. Not least because it gave us all a chance to see inside. We weren't disappointed. Despite a troubled past, the house looks pretty much as Bond left back in the early 1970s.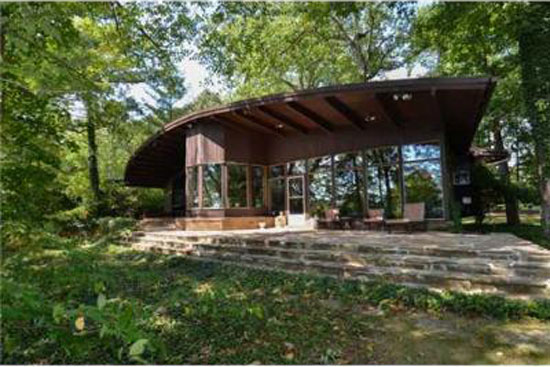 7. 1950s Otto F. Seeler-designed midcentury modern property in South Bend, Indiana, USA
Affordable MCM with as much as style as any pricier property.
Love the overhanging roof, as well as glazing and the original features. I think this was a project, which perhaps accounted for the relatively cheap asking price. Hopefully someone did this place proud.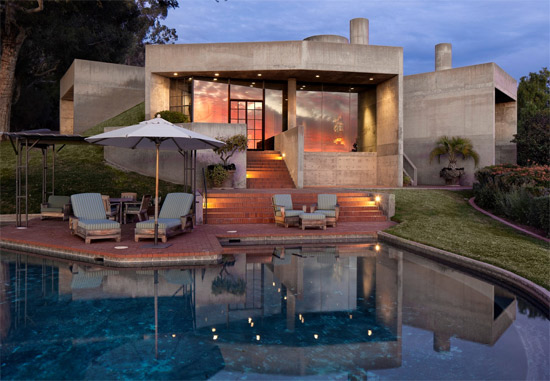 5. 1970s Roland E. Coate Jr-designed modernist property in Santa Barbara, California, USA
Another one that's probably more modernist than midcentury. But we had to feature this one.
Another celebrity connection too, as this was the home of comedian Steve Martin when it hit the market. He obviously loved the (almost) brutalist structure, cavernous interior and contrasting greenery outside. So do many of you.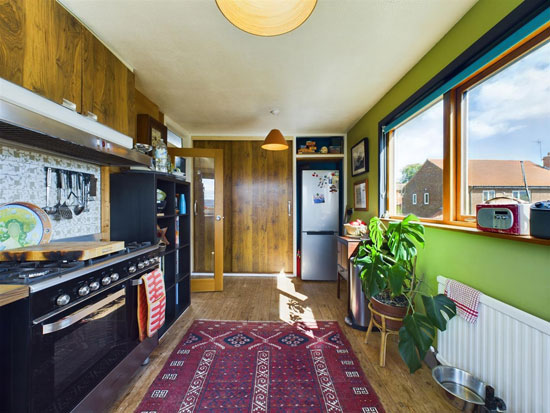 4. 1950s Richard Neutra-designed Singleton House in Los Angeles, California, USA – former home of Vidal Sassoon
Hairdresser to the stars and a man who obviously loves his architecture too.
Described as 'one of the most significant Modern homes in America', it was restored by Sassoon and has probably changed little since. Huge, modern, eye-catching and out of the price range of many of us.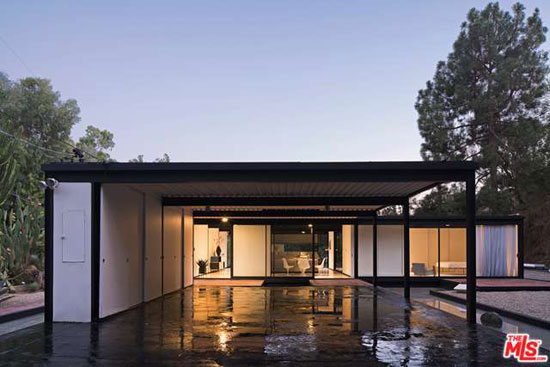 3. 1950s Pierre Koenig-designed Case Study House #21 in Los Angeles, California, USA
Very surprised we don't have more Case Study Houses in the rundown, but not surprised to see this one so high.
An iconic house and one that was restored in conjunction with Koenig in the 1990s. It was and still is the picture postcard of midcentury modern architecture.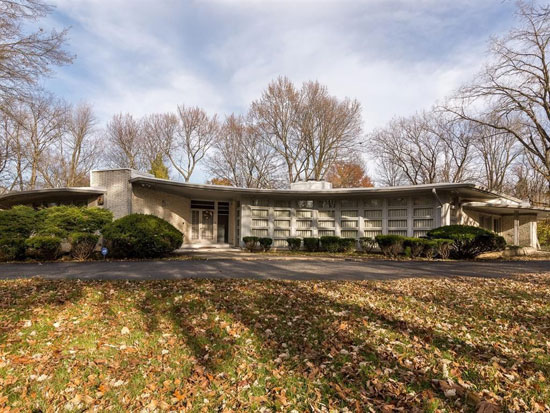 2. Four-bedroom 1950s midcentury modern property in Indianapolis, Indiana, USA
Perhaps it doesn't have the architectural merit of some we have featured, but this one does have a huge selling point.
This is a time capsule both outside and inside. It looks pretty much untouched since the 1950s and as such, is a treasure trove for fans of the era. I really hope things haven't changed too much.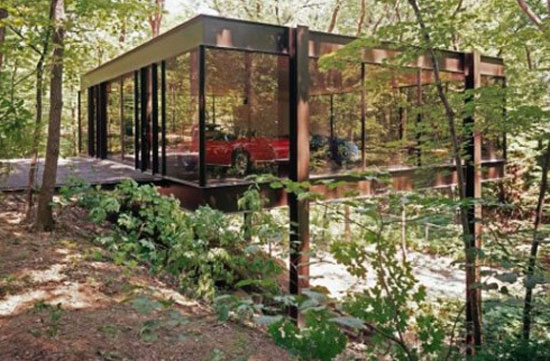 1. 1950s A. James Speyer and David Haid-designed 'Ferris Bueller' modernist house in Highland Park, Illinois, USA
There could only be one house at the top of the pile. One of the most famous movie houses of the modern era.
We only need to show you the garage and you'll know that this is Cameron's house from Ferris Bueller's Day Off. It has been on and off the market, but did eventually sell, presumably without a broken Ferrari in that garage.
Elsewhere the shell of the house looks unchanged from the original Mies Van der Rohe-inspired design, with some concession to the modern era. If we were doing lists of dream houses, this would probably make it into the top 10 for many of us.
Save