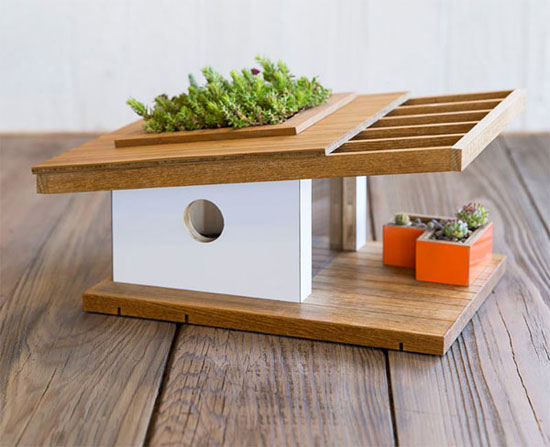 If you can't afford the real thing, you can always opt for your dream architecture in miniature, courtesy of these midcentury modern birdhouses by Sourgrassbuilt.
The really are wonderful little things. Yes, at the end of the day these are just houses for the feathered friends who might pop by your garden, but the detail of each of these birdhouses is quite remarkable.
Each one is the work of California-based Douglas Barnhard, with the designs, of course, influenced by the midcentury modern architecture of that part of the world. Eichler in particular looming large here.
I'm not going to say that there is something for every budget as the birdhouses don't come cheap. But there is a wide range of prices as well as styles. It all depends on how much detail you want in your mini house.
Some examples of the finished works are pictured here, including the Eichler-inspired Sunset Modern above, plus the Kauai House, which is actually based on Hawaiian architecture, and the Sunnyvale and Highlands, again with that Eichler inspiration.
They look amazing and are doubtless a treat for the local wildlife. If you want one, prices start at $169.99 and rise to around £399.99.
You can also buy them at the maker's Etsy site.