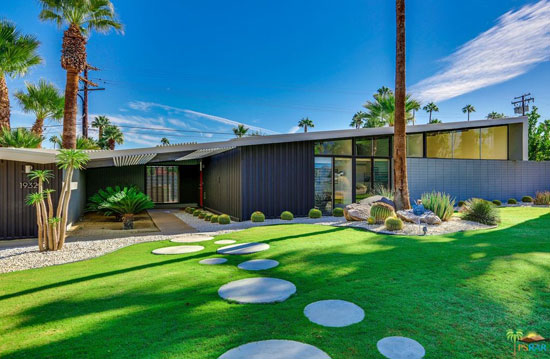 If you are looking for the midcentury dream, check out this 1950s William Krisel-designed property in Palm Springs, California, USA, which has just hit the market.
This place has the lot, but most obviously, it has that amazing butterfly roof. Just look at it. That's the 'wow' factor right there. But it isn't the only selling point of this 1958 Twin Palms property.
The house, which has apparently been showcased during Modernism Week for the last three years, has been renovated to a very high standard. But without taking away all that's good about it.
The exterior still knocks you sideways of course. But once inside, the beams are still here, as well as the bright, open living spaces. All of which is complimented by some clean white finishes, a backdrop or canvas to some wonderful midcentury design scattered around the place.
It's also worth mentioning that stunning fireplace in the living room too, a kitchen that's ultra-modern and certainly high end, but sits well with in its surroundings, not to mention the stylish and understated master bedroom.
The outside space is something too, with the outdoor 'refreshment' centre, a built-in fire pit and of course, that wonderful pool area. Party central every day and night of the year.
The living space covers around 1,760 sq. ft. in total, which includes three bedrooms and two bathrooms as well as that bright reception area and kitchen.
As we said, the midcentury dream and looking absolutely picture perfect. If you want to move in here, the place has just gone on the market. You'll need around $795,000. If you do buy it, we're available for the 'moving in' party.
Images and details courtesy of Zillow. For more details and to make an enquiry, please visit the website.
Property Location