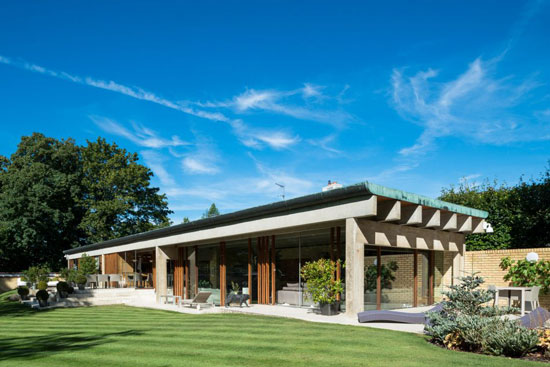 Now this is something special. Indeed, this place was described by The Sunday Times as 'probably the best Modern house in the world. So we are obviously featuring this 1960s Jorn Utzon-designed Ahm House in Harpenden, Hertfordshire now it has landed on the market for the first time since 2007.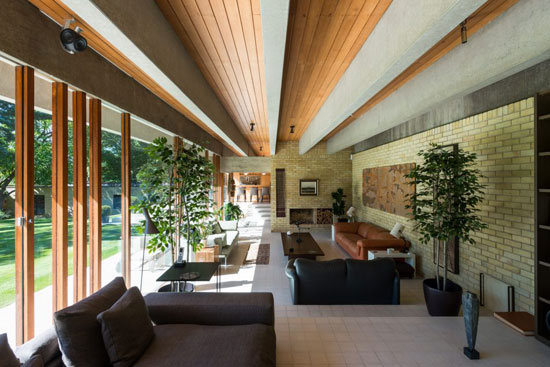 Yes, that Jørn Utzon, the one behind the Sydney Opera House, not to mention various other iconic interior designs, such as the Tivoli pendant light for example. Serious pedigree.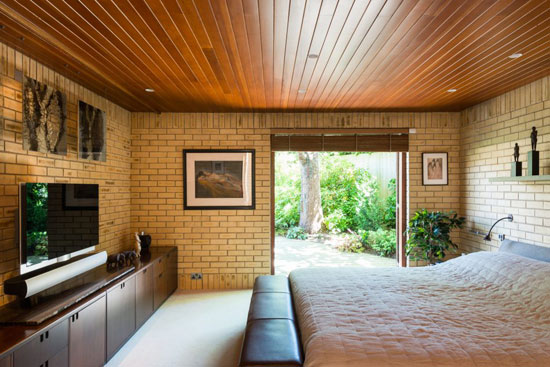 The house was designed by Utzon and fellow Dane Povl Ahm back in 1962, with a 'sympathetic' extension by Ulrick Plesner, an architect at Arup engineering firm. A further 'discreet' extension was added as part of a detailed refurbishment by the 800 Group some years later.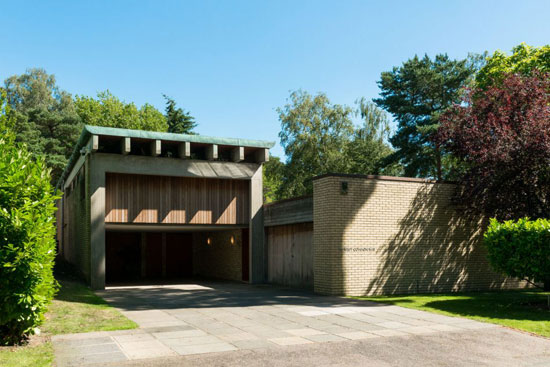 Don't worry too much about that, as it was done with an 'attention to detail' and a quality of finish that only enhances this place. In fact, unless you look very closely, you will just presume that this place is an untouched piece of 1960s modernism. Which is a credit to everyone who has interacted et the house over the past 54 years.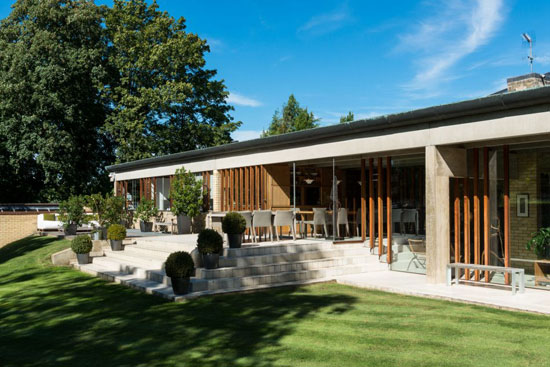 So many things to pick out here, from the concrete beams and facade through to the exposed brickwork, the full-height glazing, the open spaces and those wonderful wood ceilings. Slightly austere, but at the same time, incredibly stylish and a timeless design. This still looks contemporary in 2016.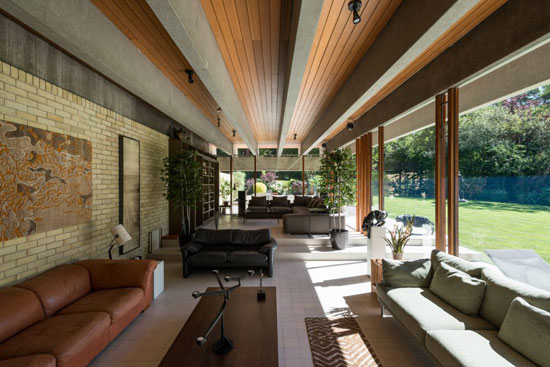 The house is, of course, grade II-listed and offering around 4,500 sq. ft. of  living space, as well as a location on a 'sought-after residential road' in Harpenden.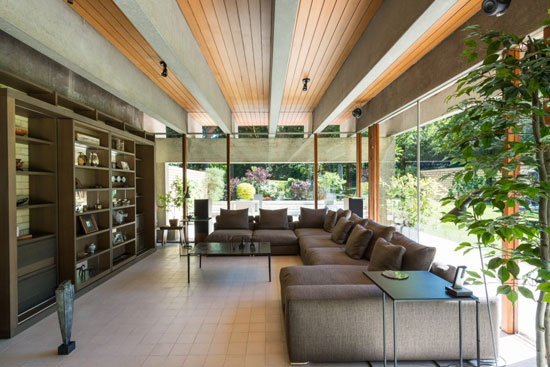 In terms of the layout, you access the property via a car port and entrance hall, with steps leading to what is described as a 'spectacular' living room.  We can't disagree with that, especially when we check out the floor to ceiling glass overlooking the gardens, the concrete and timber details, that exposed brick and some painfully cool fittings.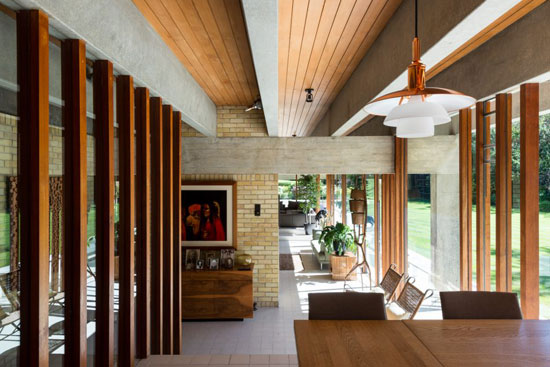 The living room is divided from the dining area by some steps, while an enclosed kitchen overlooks that dining area. Also found in this particular area are four bedrooms, a bathroom, shower room and utility room.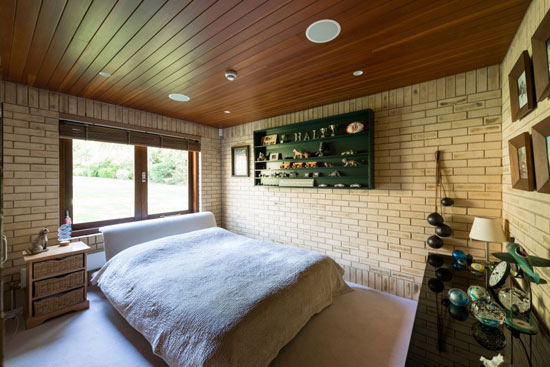 If you go beyond the entrance hall you will find a library (every home should have one) and beyond that, a further 'accommodation wing'. That is made up of a fifth bedroom and a master bedroom suite with bespoke wardrobes, a bathroom, sauna and double doors opening out onto the garden.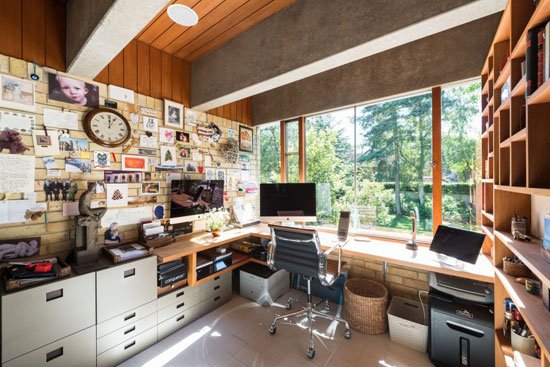 The main house also has an integral garage, as well as plenty of additional driveway parking space and gardens described as 'an L-shape' running to the side and rear of the house. One last thing, the currently owners have also built a skateboarding facility and tree house at the far end, which is out of sight of the main house, but almost certain to appeal to young kids and teenagers.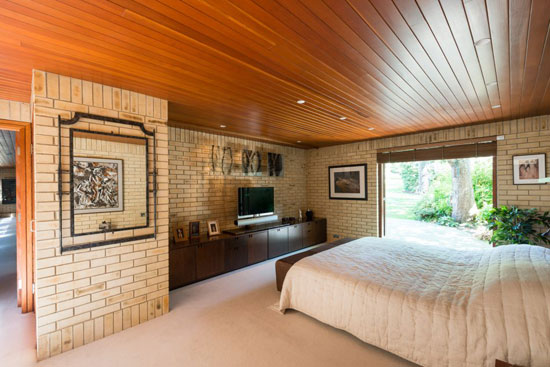 It was up in 2007 for £2.5 million and like most places, prices have moved up and up since then. Right now this is on the market for £3.5 million.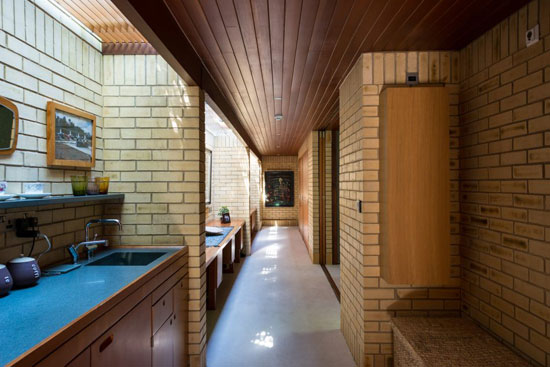 Images and details courtesy of The Modern House. For more details and to make an enquiry, please visit the website.