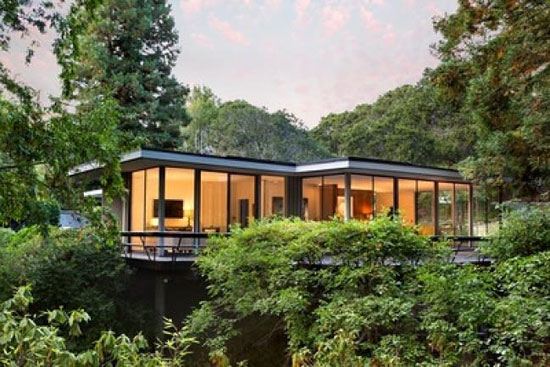 A rather interesting property on the market. In fact, this 1950s Bob Steiner-designed modernist property in Hillsborough, California, USA is up for sale for the very first time.
Just don't expect to see some kind of time capsule.
To be fair, that's perhaps what you would expect of a house dating back to 1958 and on the market for the first time in 58 years. After all, if someone built a house to their personal specifications all those years ago, surely things wouldn't have changed much?
Looking through the images, a lot of what you see if perhaps what the family and architect worked towards. A single storey property that is heavy on the glazing and big on open space living. That was the Californian dream.
It look like original features might still survive too, not least the parquet flooring and the wood panel walls. But beyond that, this place is more contemporary modernist living rather than some kind of throwback to the past.
Lots of clean, white finishes, a modern kitchen area, peaceful bedroom spaces with the minimum of fuss, you get the idea. The design itself survives, but the detail is more in tine with the modern market. That's no criticism by the way, we don't mind a modern interior at all and this one sits well with architecture.
2,680 sq. ft. of living space here, which includes two bedrooms, two bathrooms and a good amount of bright reception space too. It has to be bright with all of that glass.
Outside you'll find three quarters of an acre on a 'creek-side' setting that promises privacy for the new occupants. A good-sized terrace and a pool too.
If this is your idea of a dream home, it isa on the market for $3,495,000.
Images and details courtesy of Redfin. For more details and to make an enquiry, please visit the website.
Property Location