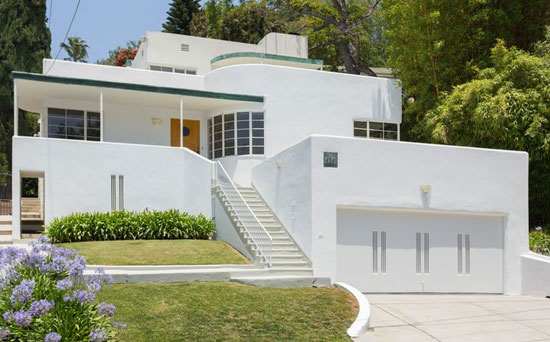 I think we would usually go for the more 'catch-all' category of art deco for this one, but if we are being specific (and we are), this is a 1930s Milton J. Black-designed streamline moderne property in Los Feliz, California, USA.
Also known as the Victor M. Carter Residence after its original owner, the house dates back to 1935 and is described by the agent as the architect's 'most notable work in Los Angeles'. You can see why.
In fact, you can see why because the house is so well preserved, helped in part by not being on the market for nearly four decades. This is a rare chance to buy a rare piece of architecture.
The house has pretty much everything potential buyers would appreciate. The external look is the best place to start, a mix of those wonderful curves, straight lines, copper trim and original windows. It's a work of art.
The interior doesn't disappoint either. Check out the staircase with chrome handrail, not to mention the detailing and light fittings in each room, the stunning vanity room, a den with built-in bar and a kitchen that mixes the old and the new to great effect. Nice to see a porthole window in the front door too.
Yes, there has been some updating over the years (as you would expect), but so much originality survives. Upgrades have been subtle and never at the expense of the original period. Something for us all to consider.
Plenty of space too, covering around 2,340 sq. ft. in total and including four bedrooms and four bathrooms, as well as a garage for two cars and a terraced garden with fruit trees.
$1,790,000 is the asking price, should you see this as your next home.
Images and details courtesy of Crosby Doe Associates. For more details and to make an enquiry, please visit the website.
Via Curbed LA
Property Location