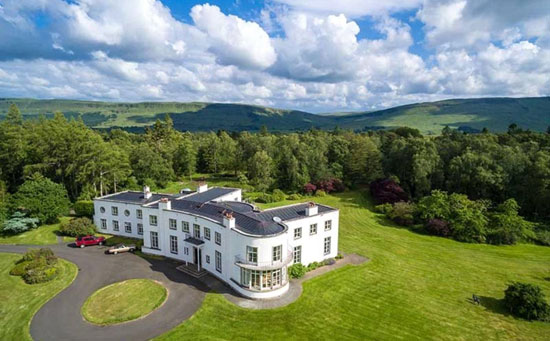 Not just an A-listed piece of architecture, this Sir Basil Spence Gribloch art deco property in Kippen, Stirling, Scotland also comes with plenty of land and a separate gate house.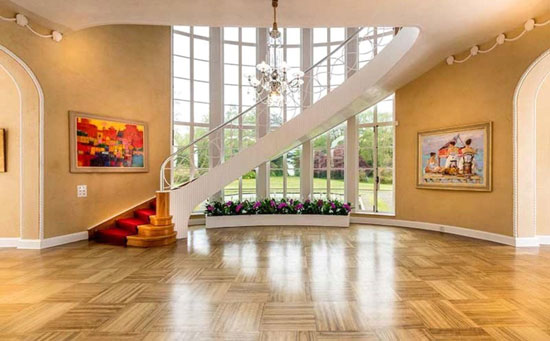 One of three private houses designed by Basil Spence prior to the Second Wotld War, this one was commissioned by John Colville, part of the Colville steel-making family and named after the land surrounding it.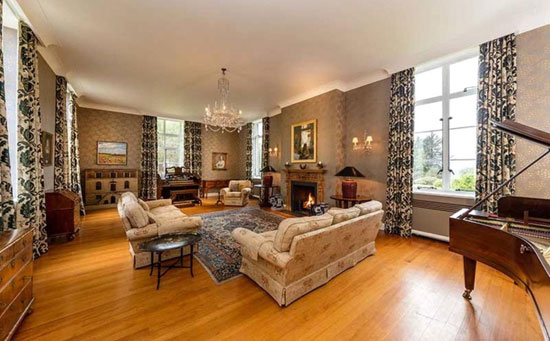 The finished house was described as 'an inverted F-plan with projecting wings to the south' and a 'service wing' on the east, with an interior said to have a feel of 'Hollywood' about it. Both are still present today.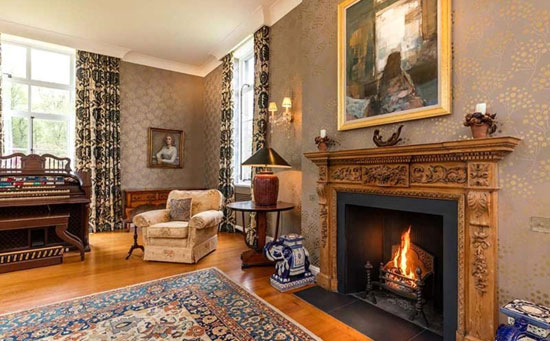 Saying that, the house has been updated. Yes, the amazing glazing is still place, as is the feature staircase. You suspect much of the layout is still as it was too.
But elsewhere, things have been modernised, not least the kitchen space. More on that in a moment. For now, let's looks at the layout overall, which is said to offer around 10,000 sq ft. of 'flexible' living space.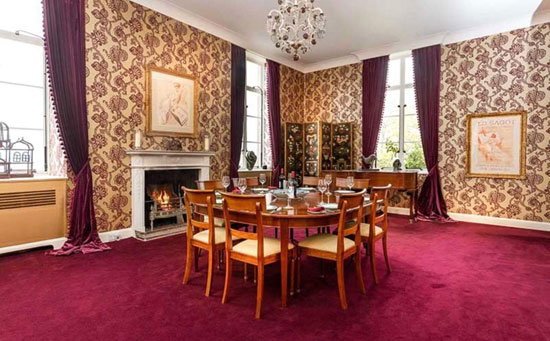 Double doors lead to the grand reception hallway with Australian black walnut parquet floor, the feature mahogany stairway with aluminium handrail and ornate plasterwork. Astragal windows also frame an indoor pond which at one time was the swimming pool.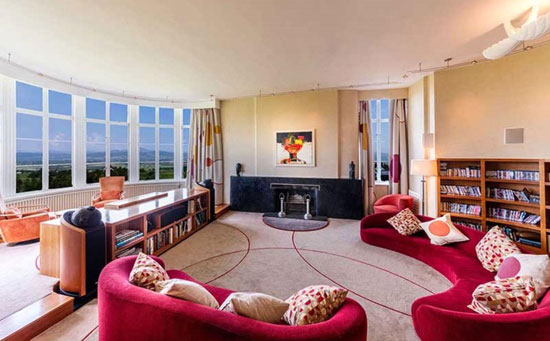 That hallway leads to the drawing room (once the cinema room) with open fire, a sitting room with panoramic views of the surrounding area, a formal dining room with open fire and off that, a butler's pantry and the kitchen.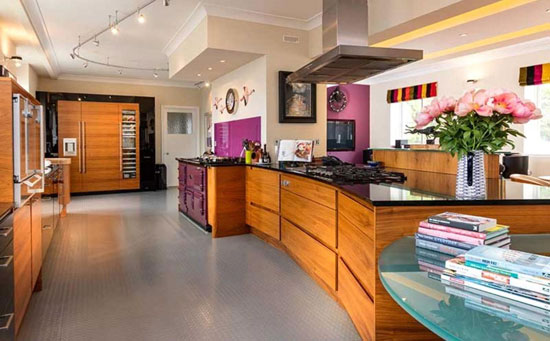 Yes, the kitchen. This is perhaps the area most in contrast with the original build. The original kitchen and a number of service rooms were converted to create a much larger, more premium kitchen, dining and less formal sitting room.
All the features you would expect of a high-end kitchen space here, as well as a back lobby with former staff sitting room (now a home office), boot room, laundry and three walk-in pantries including cold room, game larder and drinks room. Access to the cellars is also here.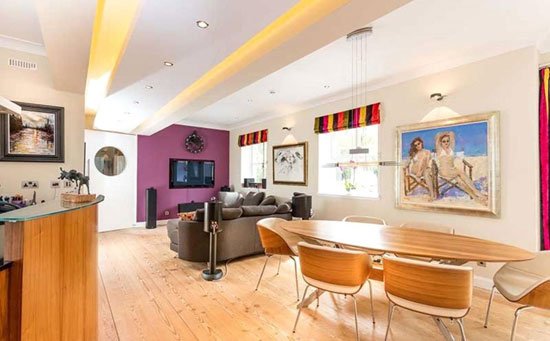 A garden room with French doors, flower room, comms room and two cloakrooms complete the ground floor.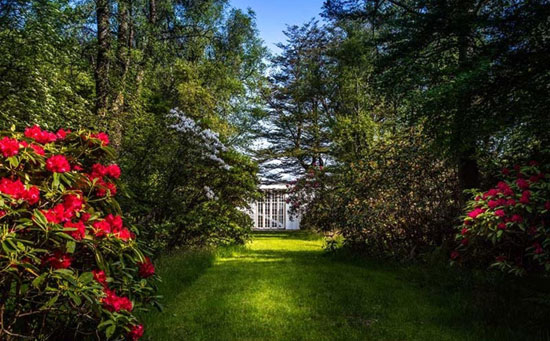 The first floor has – wait for it – 13 bedrooms. The master suite has the best views, as well as a balcony, an open fire, an American style walk in closet, a dressing room with fitted wardrobe and dressing furniture and a large contemporary en-suite bathroom.
Also on this floor is a 'children's suite' with sitting room, two bedrooms and shower room. A drying room, laundry room, linen store, hobby room and shower room complete the accommodation on the first floor. But not all the living space.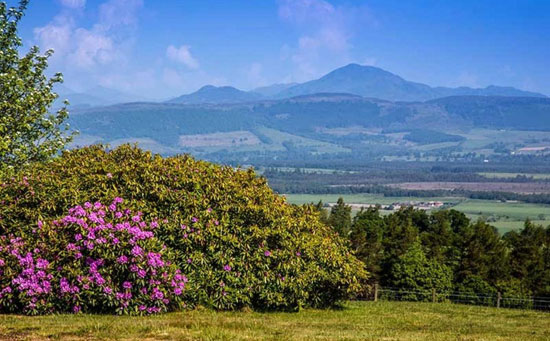 Gribloch Lodge is a B listed building with reception hallway, a sitting room, fitted kitchen, three bedrooms and a modern family bathroom, as well as a fenced rear garden.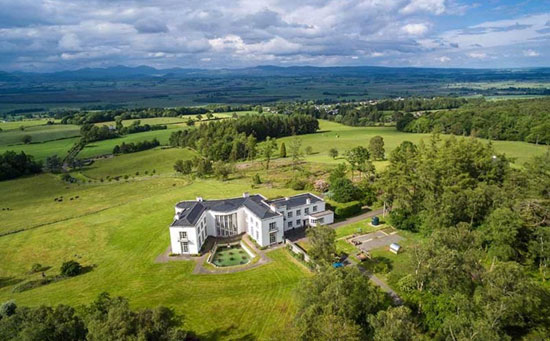 In addition to that, the garage block is also a Basil Spence design and is A listed, with a substantial garage that's large enough to take a number of vehicles and 'agricultural equipment'.
It also has two residential properties, those being West Garage House, which is a two-bedroom property and the East Garage Flat, which has two bedrooms and is currently used as an artist's studio.
Finally, you get 148 acres of grounds, a mix of woodland, informal grazing and formal parklands, including a walled garden and heated greenhouses.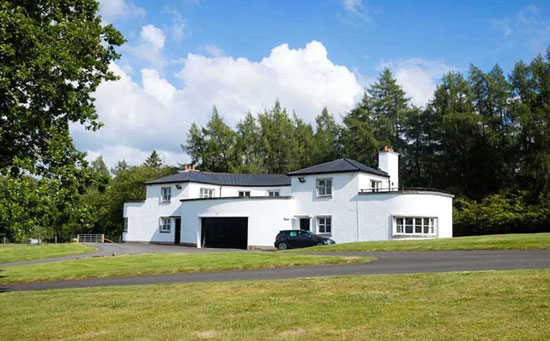 That's a lot of house. It doesn't come cheap with offers sought over £1,500,000. But compare that to some London apartments we have featured of late and it doesn't seem too bad.
Images and details courtesy of Savills. For more details and to make an enquiry, please visit the website.
Thanks to Iain on Facebook for flagging this up. Also, credit to the Sir Basil Spence Archive for background detail.