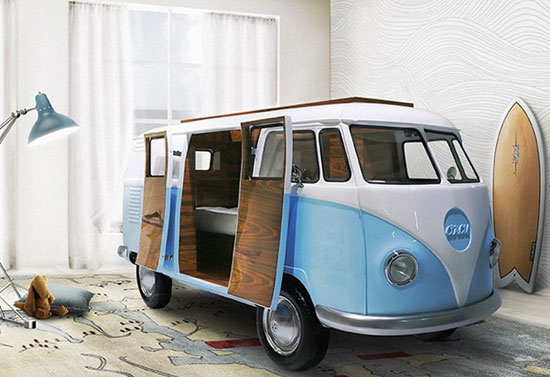 This is almost a house in a house. Although its official title is the Circu Bun bed.
And yes, this is pretty much a recreation of a classic VW Camper Van in your bedroom. Ok, it's aimed primarily at kids, but this is still a stunning piece of interior design.
The van is a limited edition, produced from fibreglass and chrome and looking eve5y bit the original van. But you can't drive this off anywhere. However, you can sleep in it, with the luxury interior, which is finished with palisander wood veneer, also offering multiple storage compartments, a TV, a 'secretary' (we think that's a desk), a mini bar and a sofa.
The finished piece is 400 x 185 x 220cm and sells for an undisclosed price. If you want to know the bottom line, you need to register an interest with the maker / seller.
Find out more at the Circu website
Via Junior Hipster