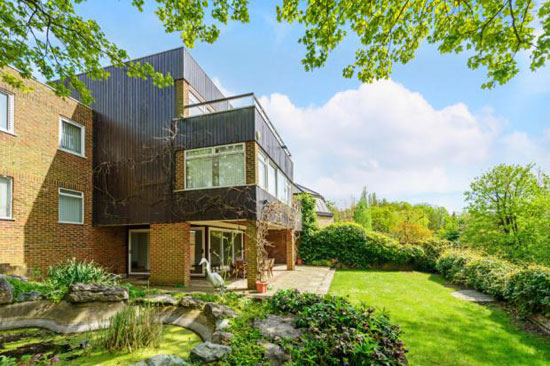 This is something of a work in progress article as we haven't been able to find out a great deal about this five-bedroom modernist property in Highgate Ponds, London N6. So be prepared for a couple of assumptions. Oh yes, thanks to Christian for the tip off.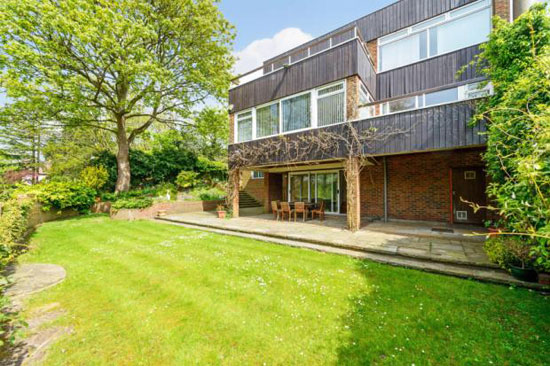 Firstly, the agent describes this as a 'contemporary home', which it most certainly is. However, we think the house itself dates from around 50 or so years back, a 1960s build at a guess.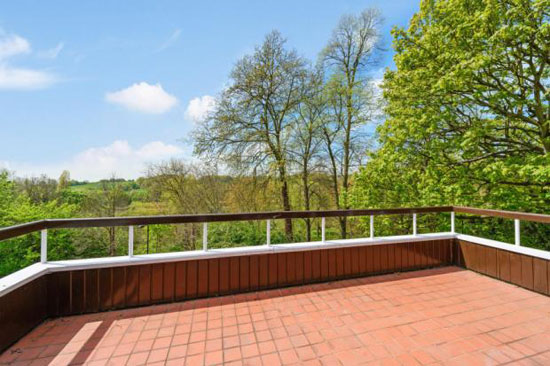 That's just a hunch. We don;t know for sure, nor do we know the name of the architect behind it. But some of the detailing has a feel for the mid-20th century. The timber roof cladding, the open spaces, the balconies and the fitted furniture all hint at that era. But it is pure guesswork. As soon as we find more detail on this, we will update.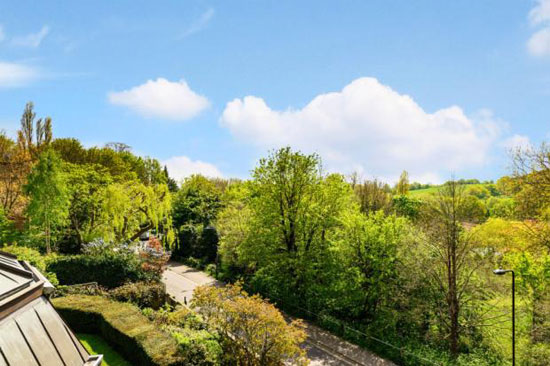 Regardless of its past, this is still a very stylish house of the present.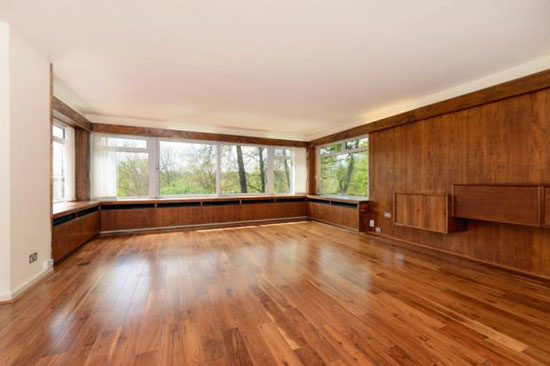 The house sits in a 'walled corner plot' in an elevated position across from Highgate Ponds, with 'stunning' views over Hampstead Heath from all the floors of the property.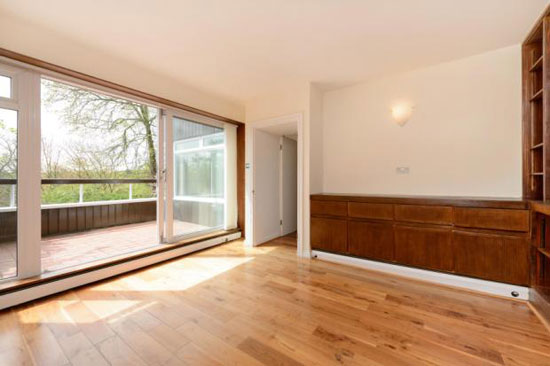 It is described as a 'link-detached' house, complete with double garage and off-street parking. All, we would guess, desirable add-ons to any home. Not that this place needs it to get our attention.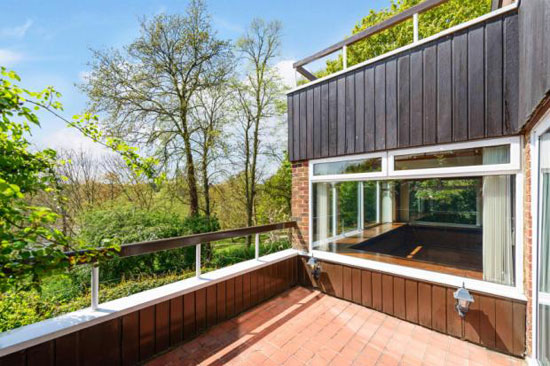 Just check out the architecture itself. The glazing, the terrace, the large rooms, some with wooden walls and the fitted furnishings we mentioned earlier, not to mention the wood floors and period staircase. It's a dream of a home.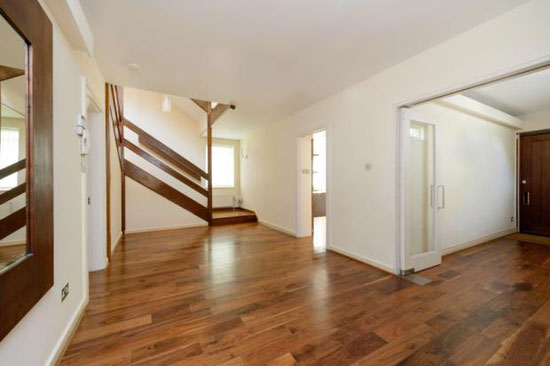 A spacious home too. The ground offers up an entrance hallway, a reception room with access to a patio garden, a kitchen 'galleried over' a second dual aspect reception room, guest cloakroom and a utility room with access to a 29 ft courtyard.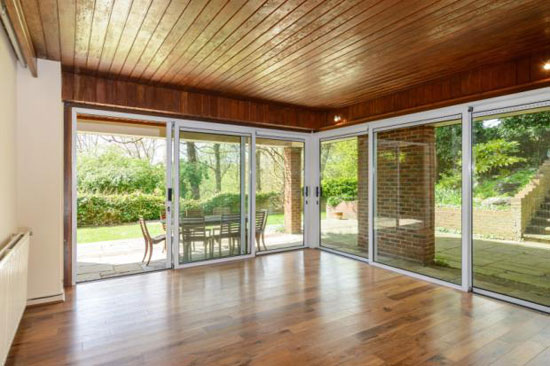 The first floor has what is described as an 'exceptional' triple aspect reception room, which opens to a study/library with west facing terrace. Also on this floor are four double bedrooms (one en-suite) and a family bathroom. Finally, there is the 'principal suite' with bathroom and a 19ft west facing terrace.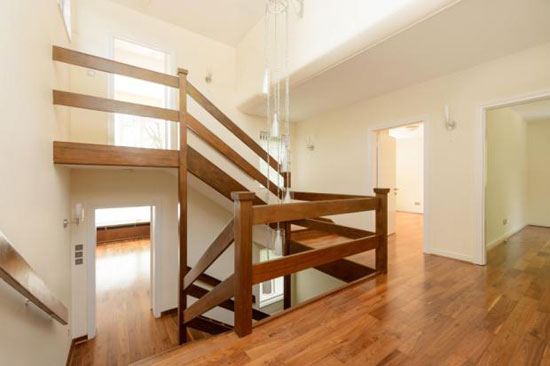 As we said, a double garage and parking space outside, along with a garden store and the west facing garden with paved, lawned and landscaped areas.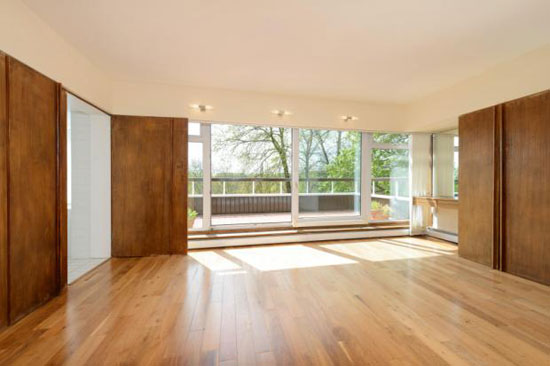 Of course, it isn't cheap at £4,250,000. But in light of the house and the area, that really is to be expected.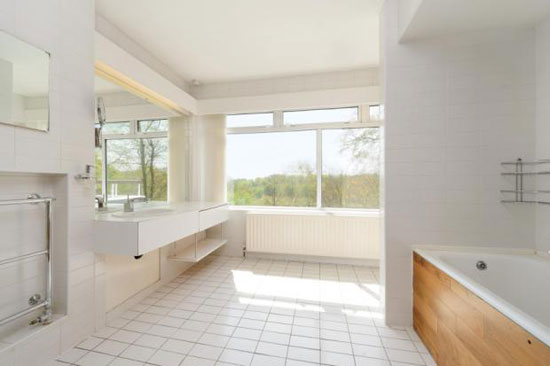 Images and details courtesy of Goldschmidt and Howland. For more details, images and to make an enquiry, please visit the website.
Property Location