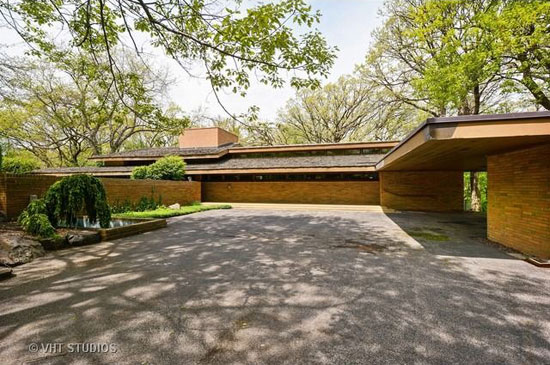 How does the idea of a pretty much untouched FLW for £551k grab you? If it does, check out this 1950s Frank Lloyd Wright-designed Louis B. Frederick House in Barrington Hills, Illinois, USA.
The house dates back to 1958 and amazingly, has been in the possession of the same family since. The family obviously love it, as this place looks like it could be out of an interiors magazine from that original era.
Some changes have been made, including a new cedar roof. But overall this prairie-style property still has the architect's name and style all over it.
So gallery halls, vaulted ceilings, cement floors and clerestory windows for example, as well as mahogany and rosewood cabinetry throughout, plenty of exposed brickwork, feature fireplaces…you get the idea. Even the bathrooms are stunning, which isn't something you say about most period houses.
Also, some neat little extras come with the house, including communications between the family and Frank Lloyd Wright and the drawings from all the built-in furnishings and cabinets (by famous master woodsman George Nakashima).
A dream home for many we would guess, with the emphasis on home. Yes, it has all the detailing and the headline architecture, but ultimately this is also a house for living in, not just for studying.
Before you decide if it is your next home, you will no doubt want to know about the space. That covers 2,550 sq. ft. in total, with three bedrooms, 2.5 bathrooms plus a dining room, family room, kitchen, living room and storage areas, along with a basement.
Over 10 acres of land outside too, including some Japanese landscaping and a koi pond.
Fancy it? The asking price is $795,000, which, as we said, works out at around £551k. Illinois has never sounded more appealing.
Images and details courtesy of Lou Zucaro at Baird and Warner. For more details and to make an enquiry, please visit the website.
Property Location