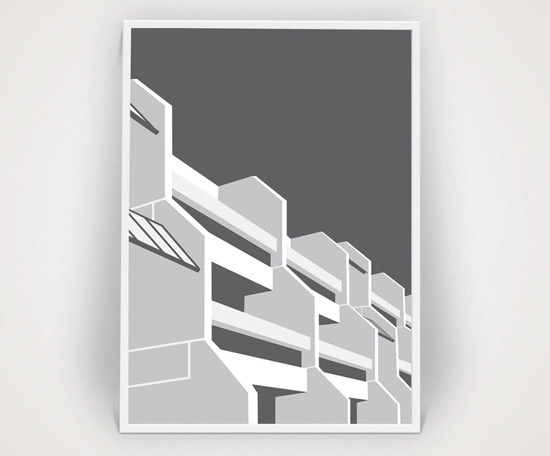 You might well now her from the wonderful Modernist Estates book (and occasionally spotting houses for the site too). But Stefi Orazi's main occupation is as an artist / illustrator / designer. In fact, Stefi's latest work is available right now – this limited edition Highgate New Town print.
Another celebration of modernist architecture. Specifically the distinctive shape of the 1970s north London social housing development, which transfers so well to an art print.
The finished print is a silkscreen in three colours, sized at 500 x 700mmm and printed on 310gsm Somerset Tub Sized paper by K2 Screen, London. The edition is 60.
The print is unframed, but it is signed, dated and numbered on the reverse. If you want one, the list price is £140, but you can get 15 per cent off that price for the next two weeks. Just add the code wowhaus_highgate on the site to get the discount.