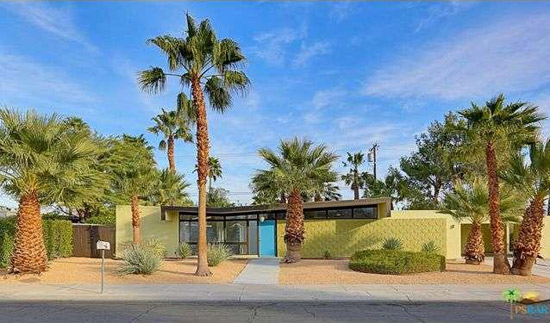 Sometimes it isn't just about the architecture. The way a house is presented can also be a key selling point. An example of that is this 1960s Donald Wexler-designed midcentury modern property in Palm Springs, California, USA.
To be honest, we might well have featured this place regardless of the internal finish. But this place also 'sells' the midcentury lifestyle once you get through the front door. And let's be honest, someone buying a Wexler from 1960 is likely to want that lifestyle.
First up, let's look at the architecture itself, a single-storey build that benefits from that wonderful 'butterfly' roof, a wonderfully period frontage, an open floor plan and an outdoor space that screams 'party'.
Inside, as we mentioned above, someone has done a lot to keep them midcentury vibe going. Of course, this isn't a time capsule, with modern-day needs taken care of with the updated kitchen (with quartz counters) and bathrooms.
But overall the early '60s vibe remains strong throughout.
You get around 1,759 sq.ft. of accommodation, which includes three bedrooms, two bathrooms, the kitchen area and lots of open reception space, along with an enclosed family room area and studio space.
The outside is as much of a pull as the outside, with the large 'swimmer's pool' and fire pit, not to mention plenty of lounging space.
If you want to immerse yourself in the 1960s, this house is on the market for $525,000.
Images and details courtesy of Paul Kaplan. For more details, images and to make an enquiry, please visit the website.
Property Location