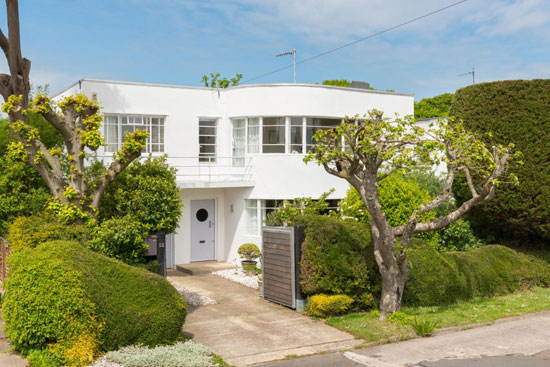 Ok, here is the big one, The top 10 most popular house finds on WowHaus in 2015. Thanks to everyone who contributed just by visiting the site – this selection wouldn't be here without you.
If you missed the rest of the top 50, you can find that here:
Numbers 50 – 41
Numbers 40 – 31
Numbers 30 – 21
Numbers 20 – 11
Now here is the big reveal…
10. 1930s Oliver Hill-designed art deco property in Frinton-on-Sea, Essex (pictured above)
If Lytton Close is the most popular road on WowHaus, then Frinton-on-Sea is probably the most popular town. And that's purely down to all its art deco treasures.
This one is one of the better examples. An original Oliver Hill design from the mid-1930s, but one that's been 'thoroughly refurbished' in recent years. There's even a striking glass and steel extension added too. Don't let any of that worry you, this place is packed full of period features and charm and a credit to its current owners.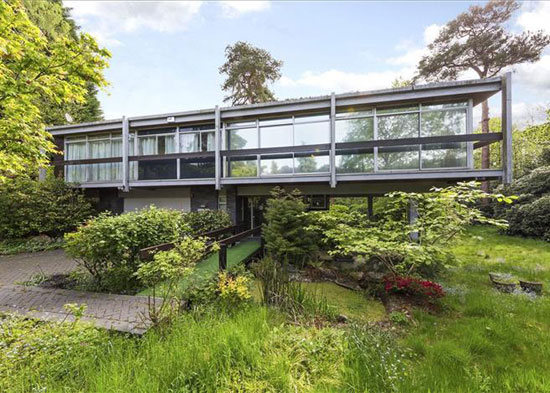 9. Rumba Panjai 1960s modernist property in St George's Hill, Weybridge, Surrey
The 9th most popular house find on the site…and we can't even see beyond the front door.
That's a credit to the exterior of this bold slice of 1960s modernism, which site in an acre of its own land. The reason you can't see inside is perhaps because of that land. This is an affluent area and the land (sadly) is of more value than the architecture. We hope this place survives, but it is likely to be a forlorn hope.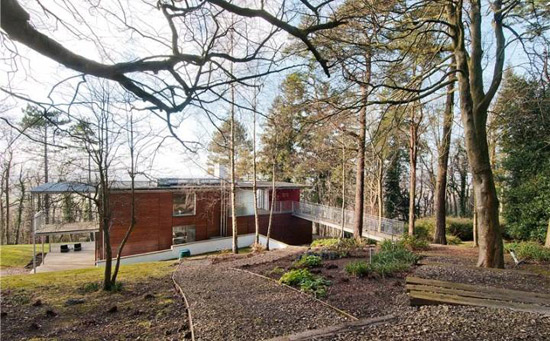 8. Niall McLaughlin-designed Jacob's Ladder modernist property in Chinnor, Oxfordshire
Great to see a modern-era design so high up the listings, but you'll probably not be too surprised when you see it.
An award winning house from around 2000, this is also Kevin 'Grand Designs' McCloud's favourite build. In his words, this is 'how 21st-century rural houses should be designed.'
A mix of steel, glass and timber in 9.5 acres of land and with a Mies Van der Rohe influence too. A stunning piece of work.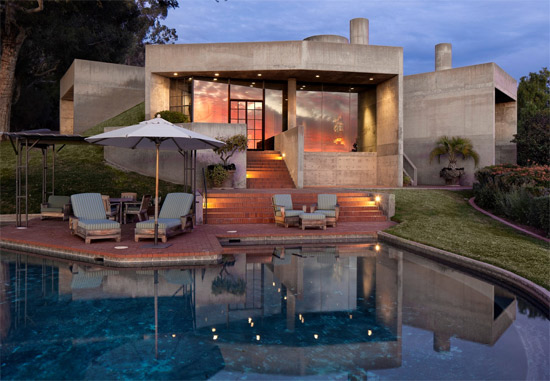 7. 1970s Roland E. Coate Jr-designed modernist property in Santa Barbara, California, USA
Some American brutalism hitting the heights, aided by a celebrity endorsement.
That celebrity is comedian Steve Martin. This is his home and it's a pretty mind blowing place. A cavernous, concrete construction jutting out from the surrounding green space and with more talking points than we have space to cover. Look at it, enjoy it and hope that an inheritance to Lotto win brings around $11 million your way soon.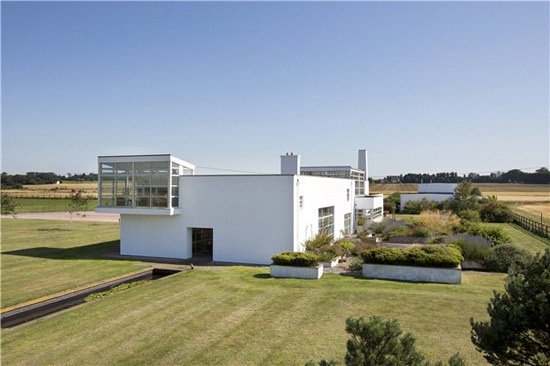 6. Lysander House converted World War 2 radar station in North Berwick, East Lothian
At first glance, a well maintained piece of 1930s modernism. But there is more to Lysander House than initially meets the eye.
Once a military outpost, this former radar station has now been converted into two stylish dwellings (both for sale together), maintaining the general look of its 1930s past (including the Crittall windows), but adding in a modern interior for family living. Oh yes, there's also the not-so-small matter of over six acres of land too. Not cheap, but a lot for the money.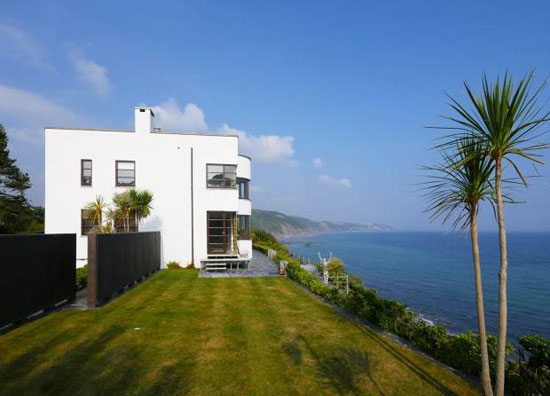 5. Gradna House 1930s coastal art deco property in Plaidy, near Looe, Cornwall
Once again, art deco is prominent in the top 10, note least because places of the quality of Gradna House are still coming onto the market.
Once an affluent family's holiday getaway, the house latterly stood empty for 20 years before being picked up in 1990, when a serious renovation got underway. Architect Stan Bolt oversaw a decade-long restoration of Gradna House, with some tweaking of the original design (we would guess) but nothing that diminishes the impact of this coastal gem. Imagine waking up to these views every single day.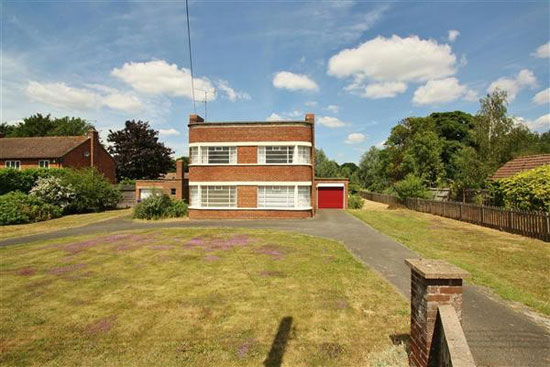 4. Unrestored 1930s art deco property in Mildenhall, Suffolk
Once again, original features prove popular with the WowHaus audience.
The occasional update here, but overall very little has changed since the 1930s with this particular property. Saying that, it does need some care and attention here and there, but this is a great canvas for creating your own art deco gem. Priced to sell too.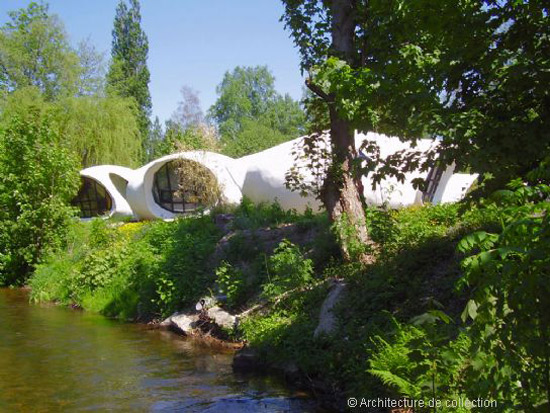 3. 1960s Pascal Hausermann-designed space age bubble houses in Raon-l'Etape, north eastern France
I think a lot of people (ourselves included) expected this to be top of the pile. But this unique development only made the number three slot.
Still an incredibly popular find though. Originally a experiment in affordable 1960s concrete living, the nine domed houses and central building were left to fade before being picked up, renovated and more recently rented out. Now the entire development is up for sale and at a price that might surprise you. If you like the idea of living in your own space age village or just think it might be a good business opportunity, book yourself a viewing.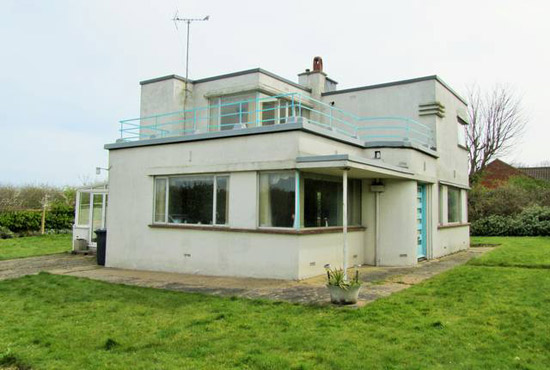 2. The Lantern W. F. Tuthill-designed art deco property in West Runton, Norfolk
This property really did take off when we featured it in April. It's the perfect art deco project.
So much originality here, including the Bakelite door furniture, fitted cupboards and the original front door, as well as a kitchen that was 'relatively untouched'. We are quoting the agent there because we can't actually see inside. But you just know there is something very special beyond that front door.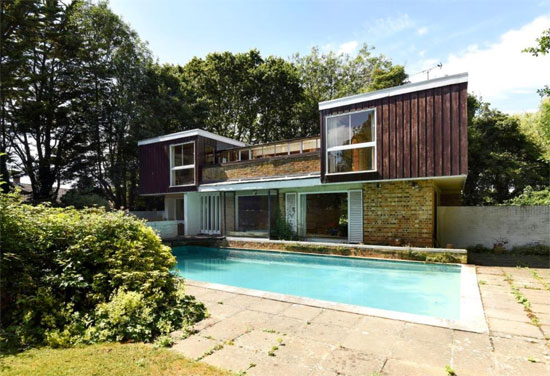 1. 1960s modernist property in Chichester, West Sussex
The most popular property of the year is always surprising to us, but we can understand why this place in Sussex proved so popular.
A house built in 1968 and pretty much as it was all those years ago. Ok, some of the furniture and the TV might have been updated over the years, but the fixtures and fittings certainly have not. This is the kind of time capsule that always proves popular on the site.
Enjoy it, as it might not be around much longer. The agent had this house down for renovation or 'redevelopment subject to planning consent', which was obviously a worry. Once again, that's down to location and land. The house did sell in the end and we don't know its fate. If you are local, please give us an update. A lot of people have fallen head over heels for this place and would love to hear positive news about its future.
That's all for now. New daily house finds starting next week and the annual rundown returning at the end of the year. Thanks again for reading WowHaus for another year – and have a wonderful 2016.