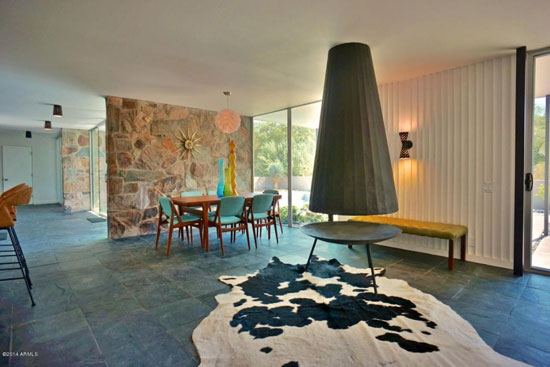 We actually featured this place some time back, when it was looking pretty sparse. Since then, the 1950s Alfred Newman Beadle-designed Beadle House 7 in Paradise Valley, Arizona, USA has been given more of a makeover and even better, has had a substantial price cut too.
The house doesn't look to have changed too much since we last feature it, expect that it looks more lived in, with furnishings and fittings very much in keeping with the years of its construction (1956).
It just sets the place off a little more, gives it more character and hopefully sells the place to someone with a love of this kind of midcentury modern living space.
As we mentioned previously, Beadle House 7 was designed by the architect for his own family back in 1956. We're not sure how long he was there or indeed, how well the house was looked after in the intervening years. But what we do know is that the current owners have 'painstakingly renovated' this place to what you see now.
So much of the originality has either been maintained or returned to the house, everything from the stone walls to the fireplace. But this isn't an exercise in retro design.
On the contrary, the house has been updated 'for today's lifestyle' If you look closely you will see a lot of clean, modern finishes here, not to mention new slate flooring, a modern kitchen, new windows and doors and an upgraded pool.
The end result is a house that, as far as we can see, really needs doing to it at all. All you need to do is book the removal van. Oh yes, you'll need to find the money too. More on that in a moment.
First, let's talk space, with the house offering 2,769 sq. ft. of internal space and an outside plot covering around an acre. The inside living space includes four bedrooms and three bathrooms, not to mention plenty of open plan reception space and that new kitchen.
If it is your dream home, you will want to know the money involved. When we first flagged this place up in 2014, the asking price was $1,595,000. Fast forward over a year and that price has dropped to $995,000. That works out to around £660,000.
Images and details courtesy of Zillow. For more details and to make an enquiry, please visit their website.
Property Location