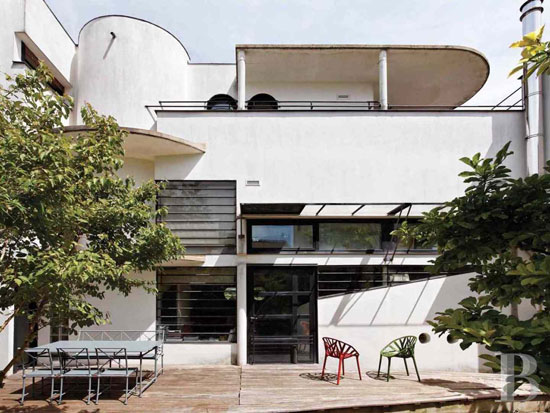 You probably wouldn't guess the year of construction of this Robert Mallet-Stevens-inspired modernist property in Suresnes, near Paris, France.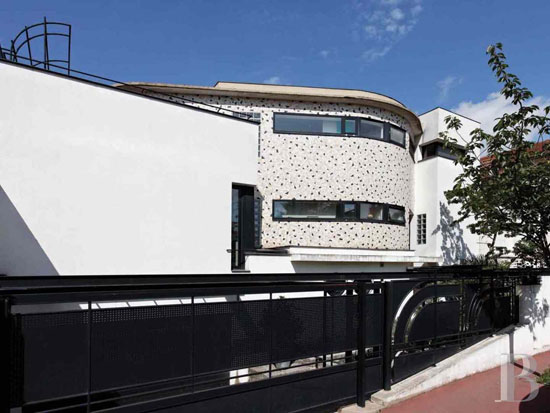 The year (to put you out of your misery) is 1998, with the use constructed as a tribute to the work of modernist master Robert Mallet-Stevens, under the supervision of Etienne-Vanderpooten. It's an impressive job, you have to say, looking every bit the original – but presumably without the pitfalls of a vintage build.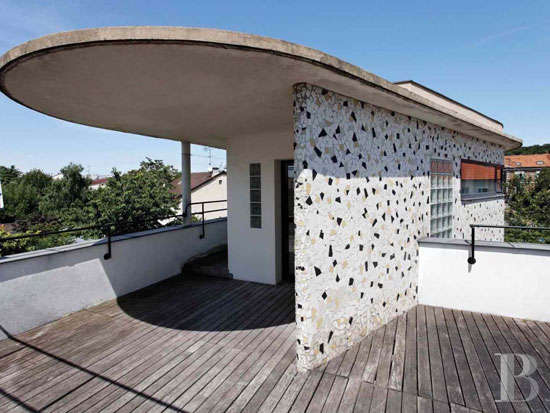 Head in through the black steel entrance door and you'll find three levels of accommodation and access to a covered garage which is big enough to take two cars. The ground floor covers around 61 sq. metres and includes an entrance hall, a kitchen (with access to the garden and the terrace) and a lounge / dining room, also with access to the garden with a terrace.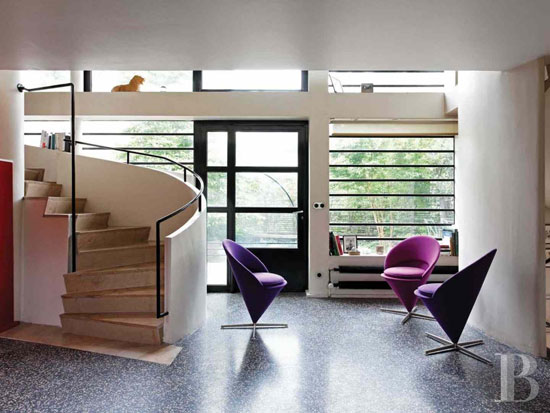 Head up the white-painted, concrete spiral stairway (with black-painted steel handrail) and you will find the upper lounge with its fireplace on a half-floor with glazed wall areas overlooking the garden let in copious amounts of light.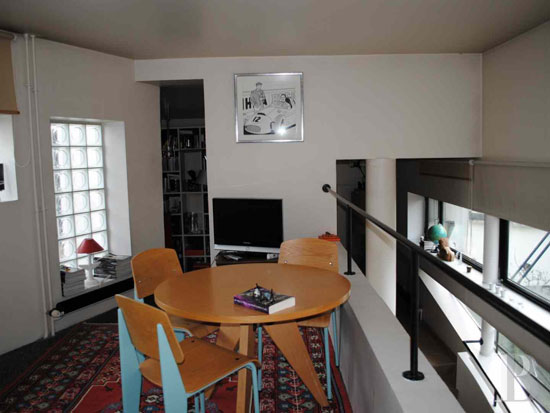 On the first floor you'll also find the landing, a study on the mezzanine, a shower room with a toilet and a bedroom. A second floor too, which hosts a further landing, a bathroom and a master bedroom which opens on to a terrace that runs around three sides of the room. The master also has a large dressing room.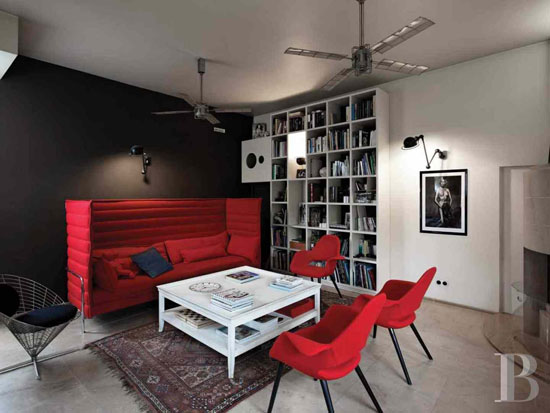 If you need more space, there is also a basement with a 'staff' bedroom, a bathroom with a toilet, a cellar, an electric boiler, a laundry room, a wine cellar and further access to the garage.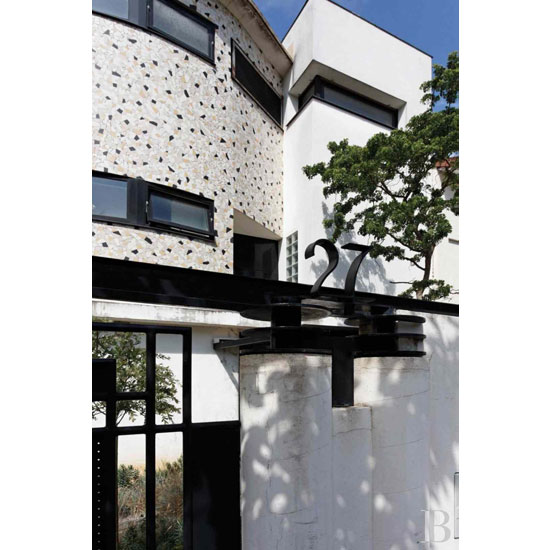 That's only half the story too, as the detailing is what this house is all about. The terrace has a lovely mosaic wall, the porthole windows throw in a 'moderne' feel and the double-height ceilings enhance the living space.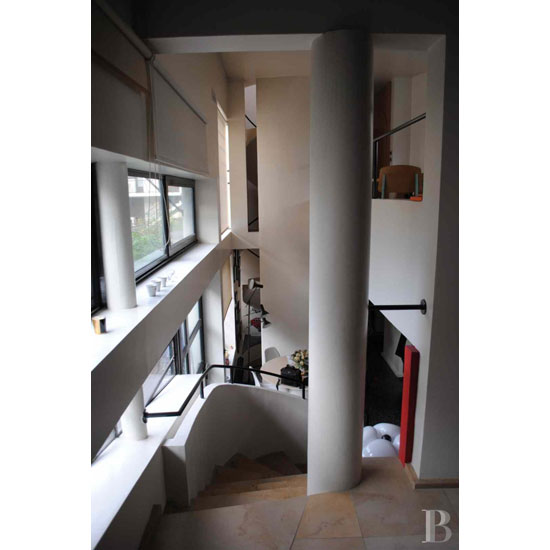 The garden is something special too, an 'ecological' garden which is designed to exist without watering. Ideal for those of us without green fingers. See the listing for the full details of that.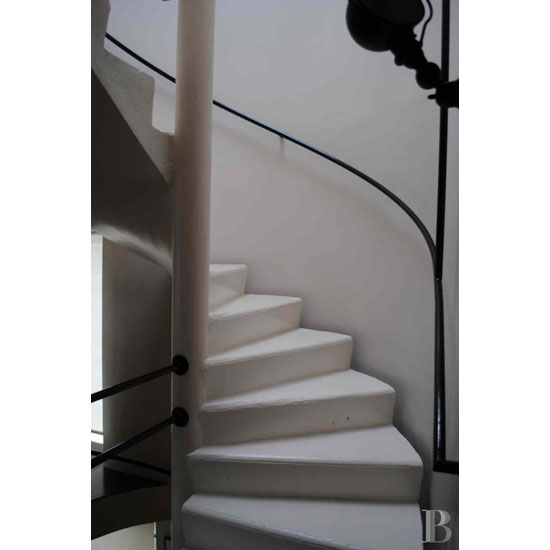 If you like what you see, the asking price is €1,300,000.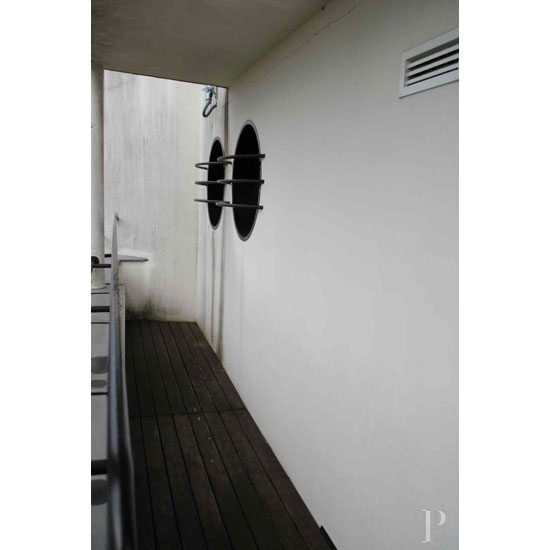 Images and details courtesy of Patrice Besse. For more details and to make an enquiry, please visit the website.
Property Location