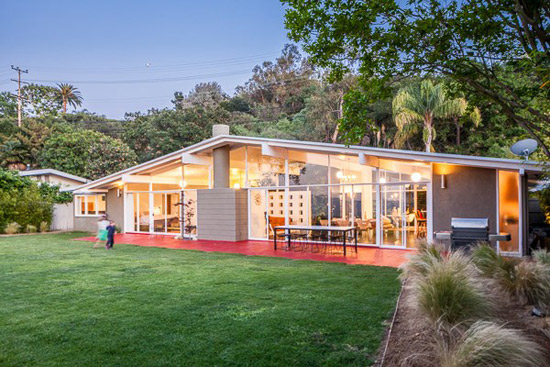 Ok, so we have covered the most popular UK places of 2015, now it is time for the top 10 most popular US house finds of 2015. Once again, we'll build up the excitement by going in reverse order.
10. 1950s Edward Fickett-designed midcentury modern property in Los Angeles, California, USA
A great post code and an equally great house.
This Mulholland Drive property has been on the receiving end of a meticulous renovation, the end result being a house that could have jumped off the pages of an interiors magazine of the era. Ok not everything (bathrooms and kitchens are usually better off modern), but this is stylish midcentury living for the 21st century.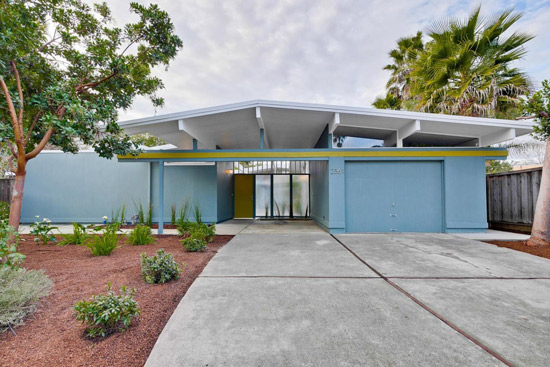 9. 1960s midcentury modern Eichler property in San Jose, California, USA
More midcentury in California and that ever-popular property, the Eichler home.
In an area of similar builds, this 1960s house has once again been given the full makeover, mixing the originality of the beams and windows with the modern-day comforts of a new kitchen, bathroom, finishing and landscaping. Again, a wonderfully stylish space.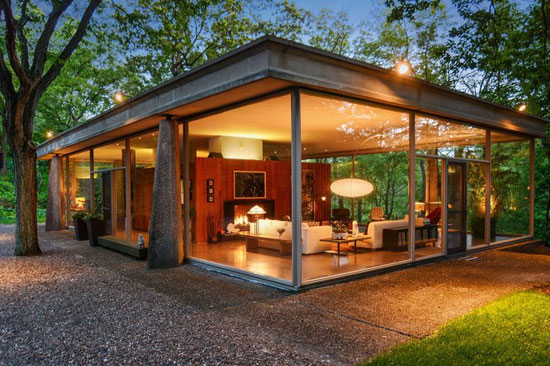 8. 1960s H.P. Davis Rockwell House modernist property in Olympia Fields, Illinois, USA
Just when you thought this was going to be all about California, we encounter this gem from Illinois.
Produced in 1964 by a student of Mies van der Rohe, this modernist pad has changed little in over 50 years, with the possible exception of (you guessed it) the kitchen and bathrooms. 2.49 acres of land too, so don't worry too much about all that glass.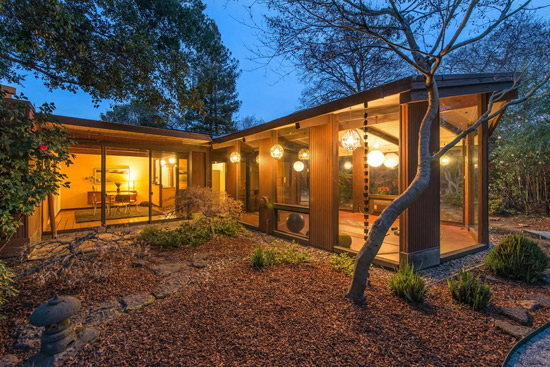 7. 1950s midcentury Eichler home in Walnut Creek, California, USA
Another Eichler, this time a courtyard-style place that dates back to 1956.
The beams, the glazing, the open space, it's all here as you would expect. Love the room dividers too and the overall finish, very much in tune with the original era. It's everything you would expect from this kind of house.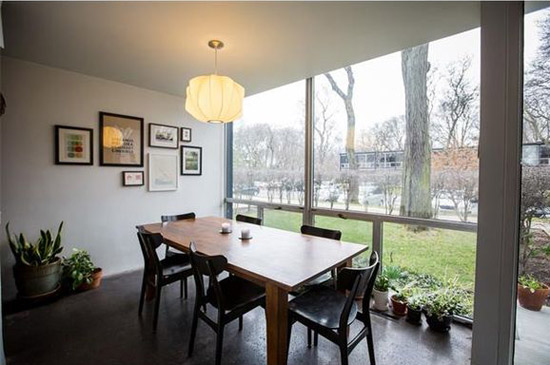 6. 1950s Mies Van Der Rohe-designed townhouse in Lafayette Park, Detroit, Michigan, USA
We have featured one of his students, but this is a design from the man himself.
Surprisingly cheap too, at least in comparison to UK prices. That's despite a lot of work undertaken, including the addition of soapstone and solid walnut butcher block counter tops with custom cabinets in the kitchen, custom walnut 'vanity' and Grohe taps in the bathroom, a custom glass shower, custom roller shades, polished and stained cement floors and a partially finished basement to boost the space.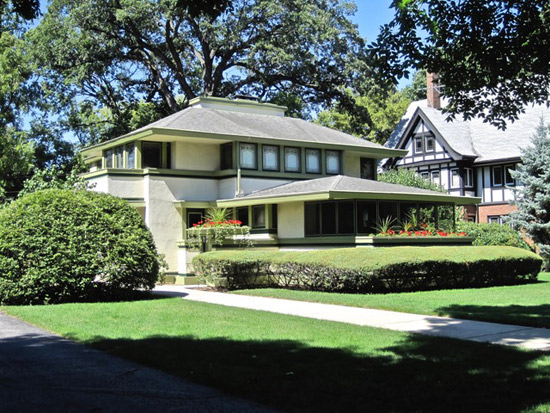 5. Frank Lloyd Wright-designed Ingalls House in River Forest, Illinois, USA
A US rundown really wouldn't be complete without some FLW.
This one is a prairie-style house dating from 1909 and still has a sense of originality about it. But that's not strictly the case, with a 'sympathetic addition' dating from 1977. But to balance it out, the original sconce lights, art glass windows and built-in cabinetry are all still here.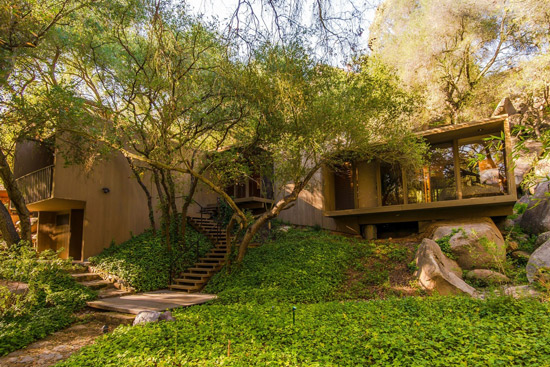 4. 1970s modernist property in Escondido, California, USA
No architect name available for this one, which is surprising for such a stunning house,
It dates from 1971, with the house nestled in the rocks, pretty much bleeding in with its wild surroundings. Some updating inside, but overall this is something a time capsule of the era.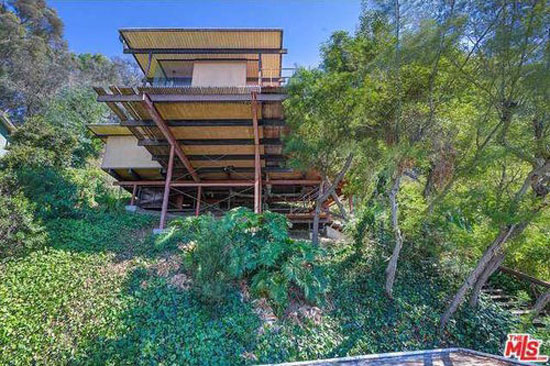 3. 1960s Raul Garduno-designed hillside midcentury property in Los Angeles, California, USA
This is all about height. If that worries you, look away.
Built in the late 1960s, the house is perched on a hill and offers stunning views as a result, even taking in the Hollywood sign. Impressive open plan modernism inside too, with a wonderful freestanding fireplace, beams, wood floors and should you need to relax, an 'outdoor Zen space' too.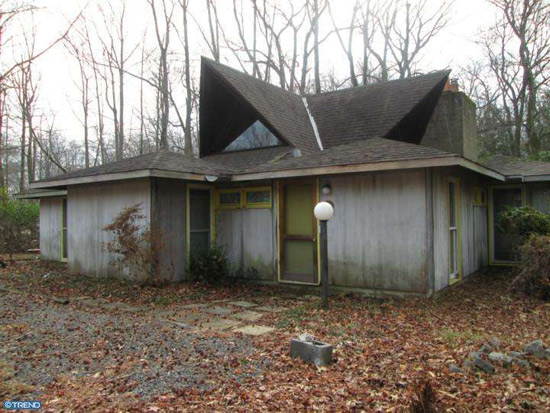 2. 1960s Louis Kahn-designed Clever House in Cherry Hill, New Jersey, USA
A project, but a very interesting one.
The house was designed by Louis Kahn between 1957 and 1962 and is incredibly well preserved. The key features here are the four large triangular gables and the large triangular windows, boosting both light and space. Off that are smaller rooms, each with with their own pyramid-style roof. But it all needs work to bring the house back to its best. On the plus side, the price is modest for such a significant property.
And finally, the most popular US find of the year so far…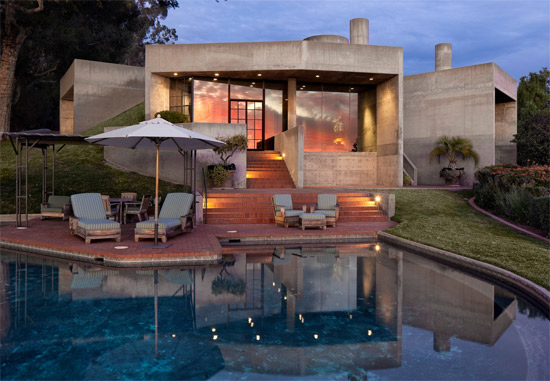 1. 1970s Roland E. Coate Jr-designed modernist property in Santa Barbara, California, USA
This striking modernist / brutalist property is the home of comedian Steve Martin. Yes, that Steve Martin.
A man of great architectural taste obviously, this is an jaw dropping concrete place built into a hill and sat in 5.86 acres of its own land. A substantial place too, with the 7,377 square feet including  four bedrooms, 5.5 bathrooms and almost cavernous reception space. A house you need to see to believe. Just as long as you love concrete as much as we do.