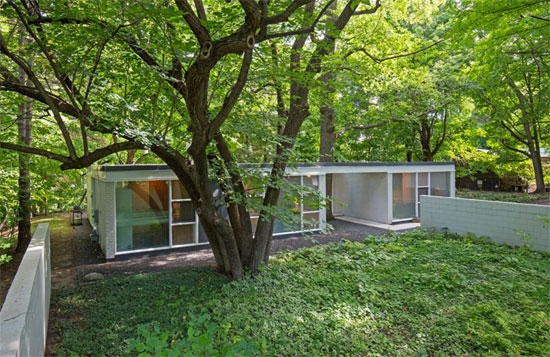 At first glance, a well-preserved piece of period architecture. On closer inspection, this 1950s Ralph Rapson-designed modernist property in Chanhassen, Minnesota, USA is actually a very stylish renovation.
In truth, it's more likely a mix of the two, with a strong sense of originality both inside and out. Certainly from the outside it looks pretty much untouched in terms of the original design, with the inside something a mix of the old and the new. But working very well together.
The exposed brick, full height glazing and ornate wood detailing will doubtless appeal to fans of the era, with the updated roof, bathrooms flooring and landscaping around the property (to name just a few things) probably appealing to your more practical side.
Space is across a single floor and covering around 1,976 sq. ft. in total, including two bedrooms and two bathrooms, as well as lovely flowing reception space and the odd 'wow' feature, including the fireplace that doubles up nicely as a room divider.
Outside space covers around half an acre and includes a courtyard, patio and views out onto the nearby woodland.
Very stylish, very nicely updated and on the market for $750,000.
Images and details courtesy of Sotheby's International Reality. For more images, details and to make an enquiry, please visit their website.
Property Location