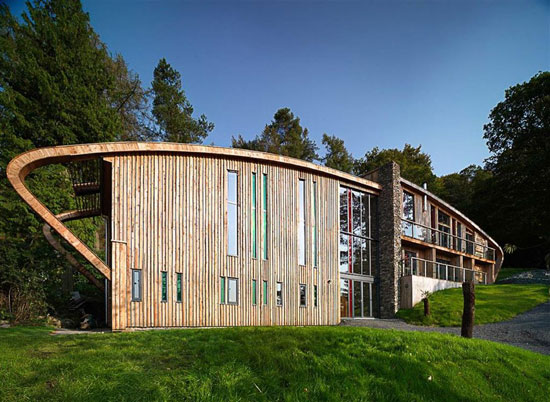 Stunning landscape and an equally stunning piece of architecture. Of course we were going to feature the Dome House contemporary modernist property in Bowness-on-Windermere, Cumbria, which you might recall from the Channel 4 Grand Designs programme.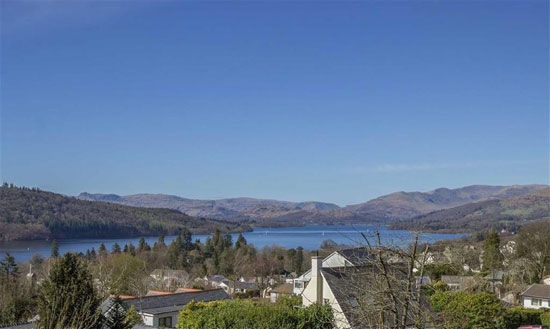 The house itself has been featured on the Grand Designs TV show twice. Once for the initial 2010 build and later as a catch-up revisit. Which means you are in the position to relive the house being built time and time again. Not too many properties offer that particular bonus.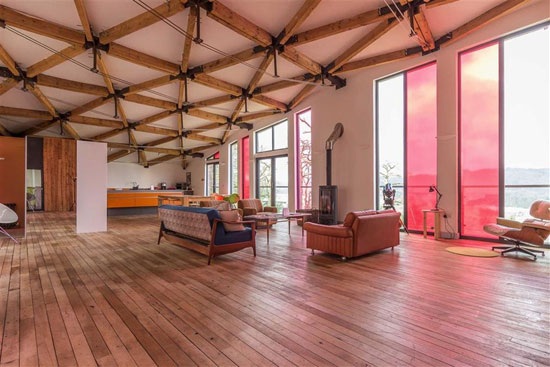 In a way there has also been a 'try before you buy' option for this place too, as part of the house has been made available as holiday lets. In fact, it looks like that's still the case. Check available dates on the website.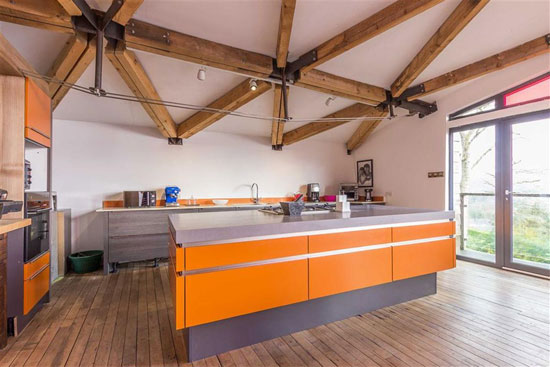 Of course, that might well change when a new owner moves in, although it might help that new owner pay off some of the mortgage if the self-catering let continues.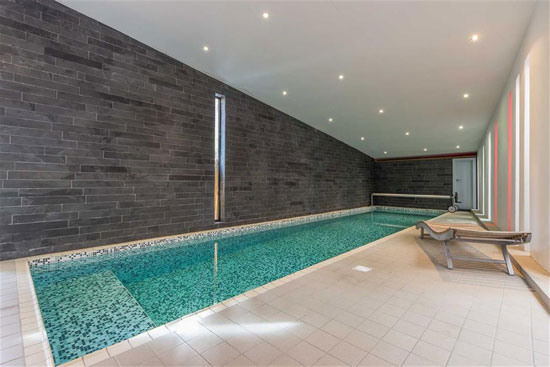 But enough of its earnings potential, let's focus on the house, which has a breathtaking / elevated view over the east shore of Lake Windermere. That's selling point number one.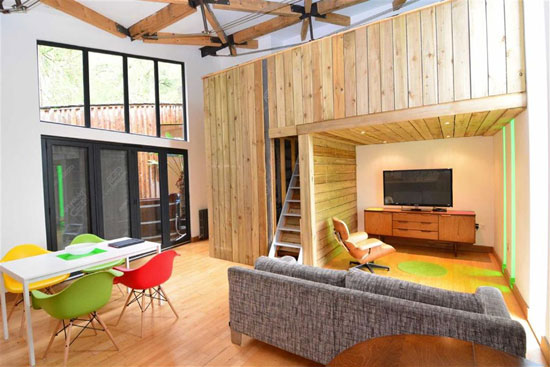 Of course, the house, designed by Robert Gaukroger, is the second selling point. He used the site of existing 1980s house to create his dream home, working with renewable materials and designing a house that maximised both natural light and access to those views, throwing in some 'wow' factor along the way.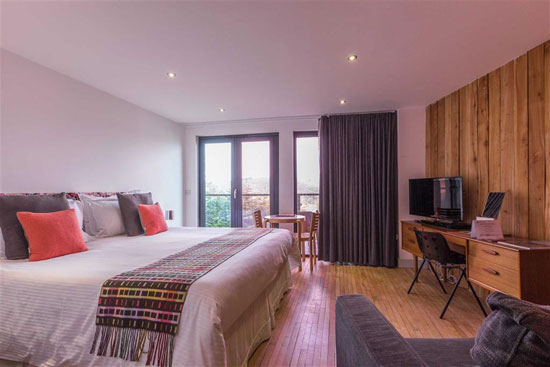 The inside is every bit as dramatic as the outside. Three levels of living space within the property, with a focal point of a full height slate stone wall, as well as the fully-glazed atrium reception space, which connects the lower ground floor annexe with the ground and first floor main house wing, guest wing and pool wing.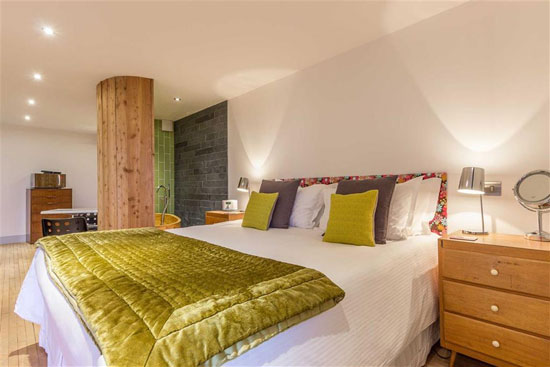 The living space includes a double height reception room with geometric 'bow strung' engineered roof, which is broken down into a large open plan family sitting / dining room with kitchen / utility. The views from all this room are as impressive as you can imagine. Two bi-fold doors open to a full length balcony deck if you want to experience the feel of the Lakes as well as the look.
The first floor has a galleried landing that overhangs the reception hall, which leads off to the ground floor annexe with guest suite. That's made up of an open plan bedroom, sitting / dining area and galley kitchen, bathroom and access to the garden.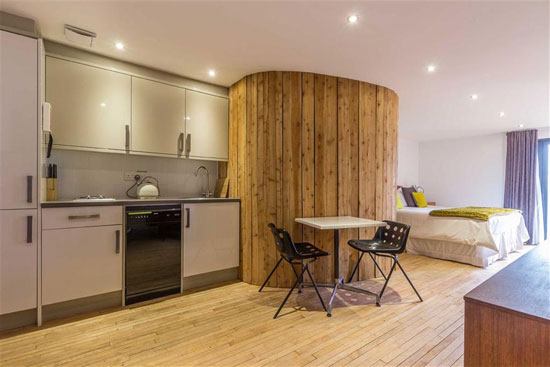 Elsewhere, the main house wing is made up of the master bedroom with 'extensive storage' and an en-suite luxury bathroom, along with two further bedrooms with double height mezzanine sleeping platforms. An Inner hallway leads to a further bathroom. The master bedroom and reception rooms also have access to an inner courtyard with space for a hot tub.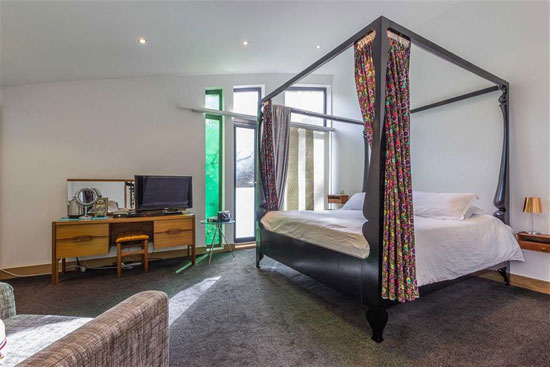 If that's not enough for you, there is the pool and guest wing. The pool room has a slate wall, non-slip tiled floor and plant rooms, not to mention a 10m glass mosaic tiled pool, which is heated by an air source heat pump. A door leads to an external courtyard with sauna. The guest wing offers three suites, each with a 'boutique style' en-suite bath / shower room, galley kitchen and access to a balcony deck.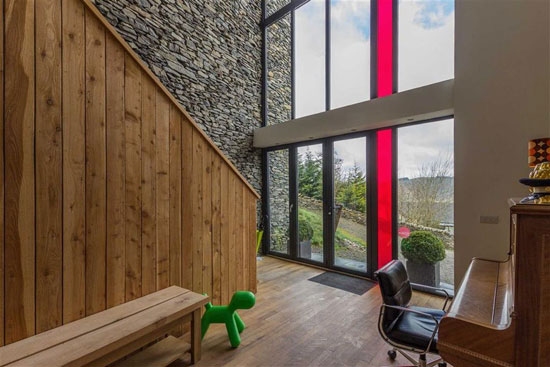 From all of that you can make out that the house is currently a mix of private living space and holiday lets, but with enough private space for a large family home and rental options (there are seven bedrooms in total).
So possibilities for both business and pleasure. The asking price is £2,300,000 if you want a move to the Lake District.
Imaged and details courtesy of Scott Bainbridge. For more details and to make an enquiry, please visit their website.
Property Location