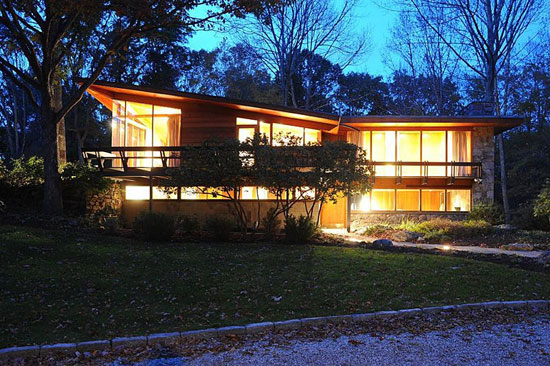 I don't know where to begin with this, expect to say that this 1950s David Henken-designed midcentury modern property in Pound Ridge, New York State, USA is a stunning piece of domestic architecture.
Designed by David Henken in 1956 (and with more than a hint of a Frank Lloyd Wright influence), the house looks well preserved or well renovated. Perhaps a mix of both in truth. Either way, it's a great place to live out your mid-20th century fantasy.
We love the roof, the wood panelling (mahogany no less), the rock built into the design of the house (not to mention the external stonework), the full height windrows, the fireplaces, the balcony space and yes, perhaps we are being seduced by the fixtures and fittings, but above all, we love the fact that this is a period home you could just move your family into. No work needed and both the bathrooms and kitchen updated for the modern era.
If there's a downside it's perhaps that the illusion of space doesn't carry over into actual space as far as we can see. There are just two bedrooms in the current layout, which might cause a problem, unless you shift around some of the remaining space.
We don't exactly know what that is via the listing, but there looks to be plenty of large, fairly open living space amongst the 3,162 sq. ft. of accommodation, so it shouldn't be a big problem. Outside is over 2 acres of land, which includes your own private woodland, a fish pond and swimming pool.
$1,495,000 is the asking price, which is a big jump on the $600,000 it sold for back in 2009. Ok, house prices might have risen, but we suspect it's more a case of someone investing a lot of time and money in this place. It certainly shows.
Find out more at the Zillow website
Property Location