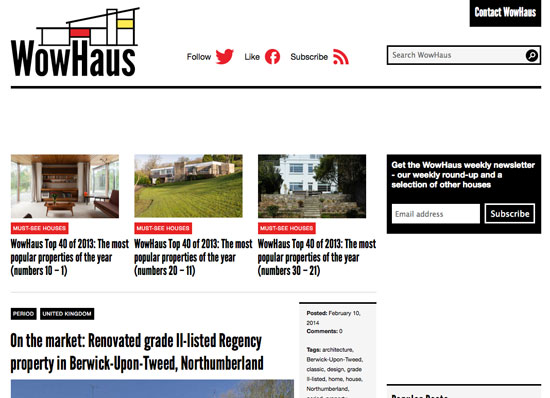 Would you, your company or your agency like to sponsor the WowHaus site? If you would, read on.
WowHaus is (as you might know) a popular property website, seeking out and featuring interesting properties on the market. It has also been featured fairly recently in broadsheets such as The Times and The Daily Telegraph.
Right now, we're looking at spending more time putting up more properties on the site. But to do that, we probably need some kind of sponsorship to take the site forward, freeing us up to write more and research more.
We can give full details of what we can offer in return via email, so please do get in touch if it sounds of interest to you. Bottom line is that we certainly aren't planning on getting rich out of this. We just want to be able to pay the bills to do the work on the site better – and in return, give some promotion to our partner.
Of course, the site will remain independent editorially – that's a necessity. But any prospective partner will be promoted prominently throughout the site, which would be a great opportunity for a relevant company.
If you have any interest at all, please email the site.