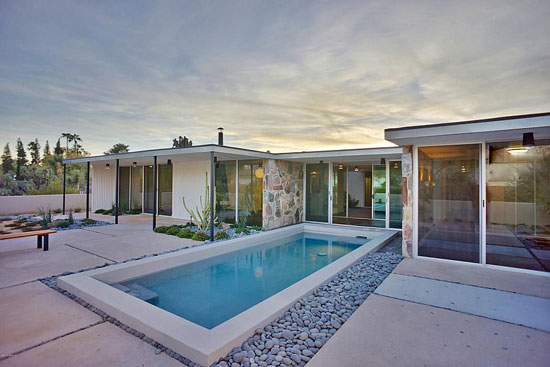 Now this place really is something – and it looks like this 1950s Alfred Newman Beadle-designed midcentury modern property in Paradise Valley, Arizona, USA is nice and empty, ready for you to move in with your worldly goods.
The house dates back to 1956, originally designed by the modernist architect for his own family. That was obviously some years ago. The current owners have given it their own treatment, bringing this place kicking and screaming into the modern era.
That's not always a good thing, but in this case, we think it is. According to the agent, they have 'lovingly and painstakingly renovated' the house. So the architectural details and the architect's vision have been maintained, while the fixtures and fittings have been updated for a modern family lifestyle. So original stone walls mix it with new slate flooring for example, the original fireplace has been restored and the kitchen and bathrooms have been given a contemporary finish. The end result is stunning.
There's around 3,000 sq. ft. of space, which includes four bedrooms, three bathrooms and lots of open reception areas that opens effortlessly not the manicured outside space and pool. There's also a guest office/studio too if you need to work from home. You might want to do that a lot more if you owned this place.
You might have to work hard to finance it too. $1,595,000 is the price, which works out at around £978,000.
Find out more at the Zillow website
Property Location