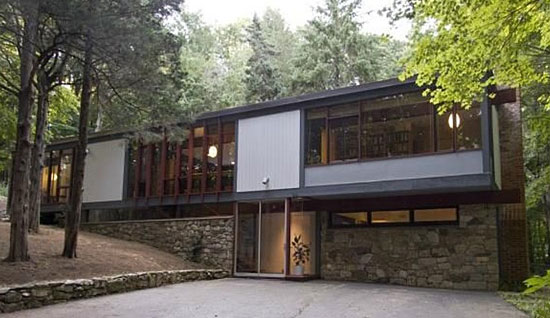 Just on the market is this impressive structure, otherwise known as a 1960s Thomas H. Fleming-designed midcentury modern property in Weston, Connecticut, USA.
It is impressive for two reasons. Firstly, because of the originality of the structure, the work of sculptor and architect Thomas H. Fleming, who was an associate of celebrated Harvard Five architect Eliot Noyes. But it's also impressive in another way. It has had a rather cool makeover.
Actually. makeover is the wrong word. But the Neutra book on the coffee table inside points to an owner with a genuine interest in the architecture, while the fixtures and fittings show an interest in the period that delivered this house.
It isn't a museum, but the key features of the original build look intact, not least the walls of glass and open plan feel of the place. There's even the odd sculptural touch too, presumably a personal touch by the architect. Yes, there are remodelled bathrooms, but what do you expect in 2014?
Space-wise, we're talking 2,400 sq. ft on a plot of 3.25 acres (so definitely some privacy here), with the breakdown listing three bedrooms, two bathrooms, public entertaining spaces, a modern open kitchen and a family room with stone fireplaces.
$750,000 is the asking price, which works out at around £458,000.
Find out more at the Zillow website
Property Location