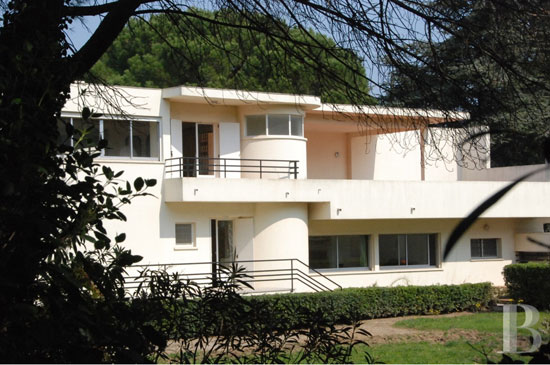 Something special is up for sale in a corner of France, this 1920s Pierre Chareau-designed modernist property in Grimaud, South-East France.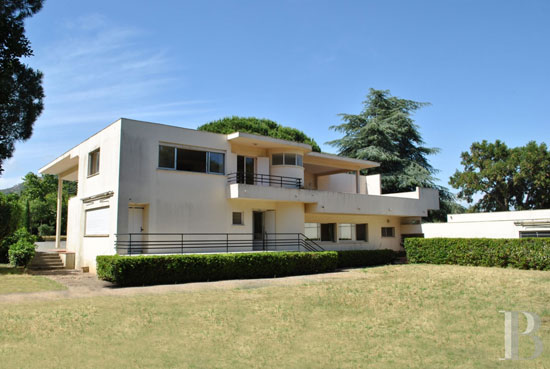 In Grimaud, around 1925, the Bernheim brothers developed the Beauvallon estate and golf course. Near to that, they built villas designed by architects of the Modern Movement, one of which is now up for sale. This villa is located in flat parklands spanning more than a hectare, with a two-car garage fitted with sliding, metal doors also in the grounds. The house is surrounded by large lawns and trees planted with beds of lavender, blackberry bushes, medlar and plum trees, with the house, garage and land all currently protected, having been added to the French Supplementary Historic Monument List in 1993. But it is available to buy right now.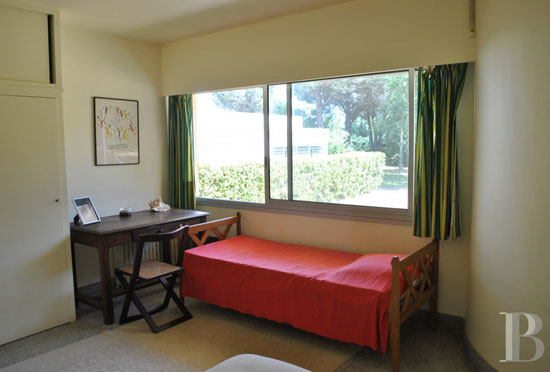 This south-facing villa covers around 300 sq. metres of living space and is a stunning example of early modernist architecture, hardly changed over the years. All the curves, balconies, steps and straight lines just how they were envisaged all those decades ago. The only real change is the windows, which have been replaced with new aluminium ones.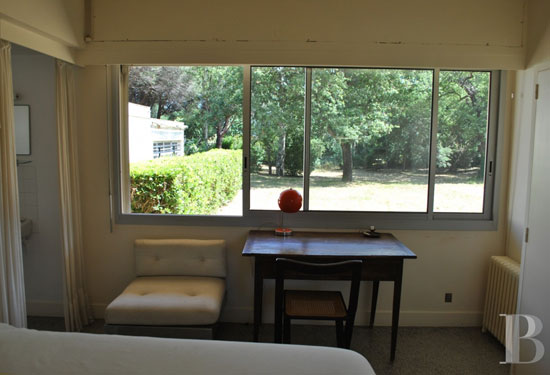 As for the layout, the main entrance leads to a terrace and stairway, which leads down from this terrace to the garden, located on a slightly lower level. On the east side, a long L-shaped corridor leads to several adjoining rooms – two bedrooms with wash-hand basins, a bathroom, a toilet, another small bedroom, and a last one with a bathroom. On the west side, a self-contained flat with access to the garden, includes a bedroom, a bathroom with toilet, and a lounge as well as a small kitchen. On the north-west side is the wing intended for domestic staff with a shower, two toilets and three small bedrooms. There's also a pantry with a door leading to the garden, towards the garage. From this room, one stairway leads down to the cellar and another leads upstairs to the back kitchen.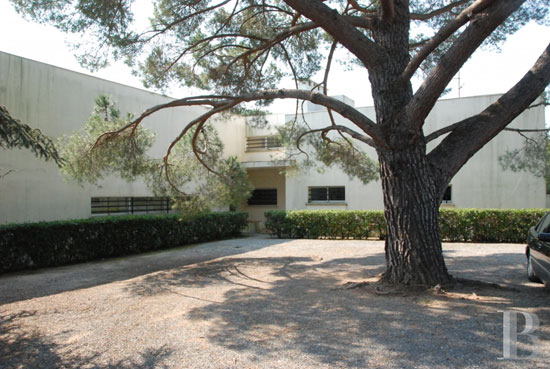 Head up to the first floor  and you'll find a vast lounge with wide picture windows overlooking the garden, as well as an opening on to a balcony looking down on to the garden. On the east side, the lounge is followed by a large, partially covered terrace. On the north side an eating area is followed by a back kitchen that is also used as a laundry room with a terrace for hanging out the washing. You'll find a kitchen here too. Underneath the house is cellar space, comprising four rooms and a boiler.
I know, complicated layout. Hopefully the images give a decent impression of just what you get, although if you are serious, you probably want to book a viewing. Before you do that, check your bank balance though, as this is price on application. In other words, this is likely to be a seriously pricey purchase.
Find out more at the Patrice Besse website
Property Location