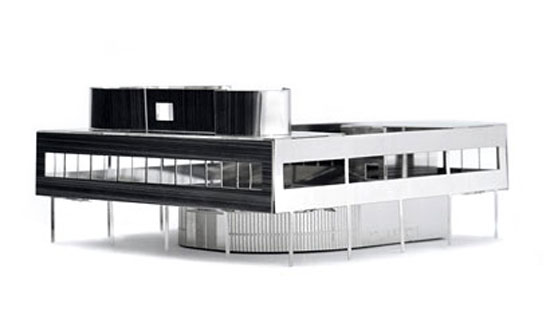 Perhaps because it so iconic and unattainable, Le Corbusier's Villa Savoye has been fair game for miniature recreations. We've featured the Lego Architecture Set and the cardboard kit, but now you can make have it as a MONUmini architectural model.
'Mini' is definitely the operative word here, with each MONUmini kit of the 1930s modernist icon containing a tiny model made from etched stainless steel that is cleverly designed to fold and lock together to create an intricate replica of the building. The kit comes flat-packed into an envelope containing instructions (French and English) and a short history of the building.
You can pick one up for £15.50.If you want more than one, other locations getting the MONUmini treatment include Tower Bridge, Battersea Power Station, Post Office Tower, Barbican Tower, Notre Dame Cathedral and Brandenburg Gate, along with the recently issued Centre Pompidou.
Find out more at the Another Studio website