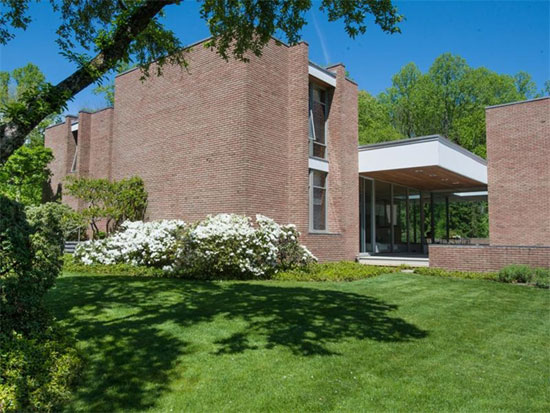 We've had some modest properties featured this week, but we can't contain ourselves forever. We're going in big with the 1960s Ulrich Franzen-designed The Dana House modernist property in New Canaan, Connecticut, USA.
It's a stunning place, both inside and out. It dates to 1963, described as a 'brick' pavilion house and is huge – over 5,500 sq. ft. and an interior that could be straight out of sixties. Its stark exterior might not be to everyone's taste, but once inside, thanks to a clever use of glass, Dana House certainly isn't as dark and imposing as you might imagine.
Inside, you'll notice that glass, as well as more brick and wood panelled ceilings, not to mention the parquet floors and a clean finish throughout the place. We would mention the plethora of design classics too, but we're pretty sure the furnishings aren't part of the deal.
The room breakdown is a little vague, so you probably want to check out all the images to get an idea of what you get. But overall, you are looking at 10 rooms, which includes five.six bedrooms, four and a half bathrooms, multiple decks and 'acres' of private land.
A stunning property and one to consider if you win Euromillions tonight. That's because the asking price is a hefty $5,500,000.
Find out more at the Sothebys website
Property Location