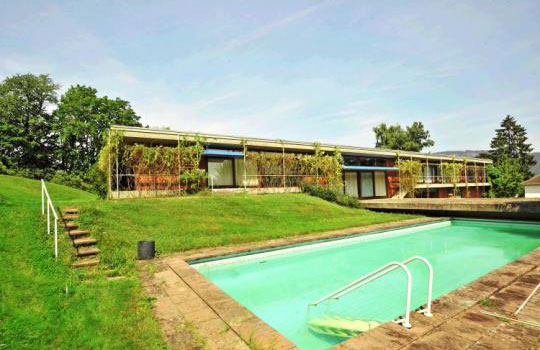 Thanks once again to Daniela Rincklake van Endert, who has spotted this stunner on the market, a 1960s Egon Eiermann-designed modernist property in Baden-Baden, south west Germany.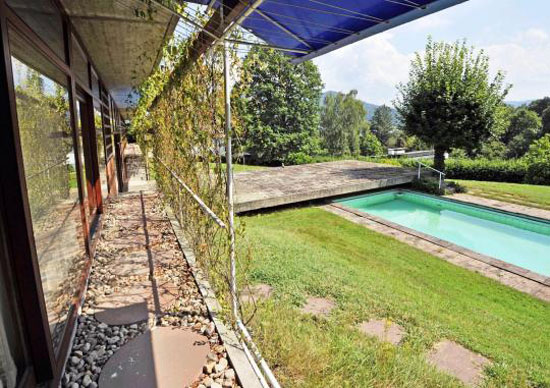 Located in a prime elevated position of Baden-Baden, but hidden from passers-by, this villa was the work of Egon Eiermann, one of the most prominent architects in Germany in the second half of the 20th century. The West German pavilion at the Brussels World Exhibition, the West German embassy in Washington, a building for the German Parliament in Bonn, IBM-Germany Headquarters in Stuttgart, the Olivetti building in Frankfurt and the new church on the site of the Kaiser Wilhelm Memorial Church in Berlin were his key works, but houses got a look in too.
This one in particular, which dates back to 1960 and was completed for the family of the Counts of Hardenberg in the Bauhaus style, constructed of geometric cut reinforced concrete, glass and brick.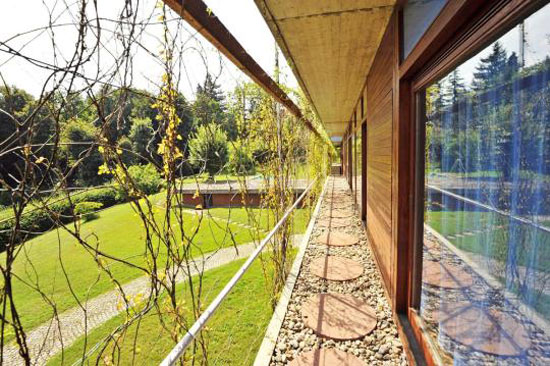 The overhead shot perhaps gives the best idea of just how this place is laid out, with a sweeping driveway taking you around the property, with the one side offering up a landscaped residential courtyard and a large 'playground' with terrace and swimming pool, which is also open to a view on the valley side. There's also greenery around the avant-garde tubular steel around the house, forming an intentional shield around the property.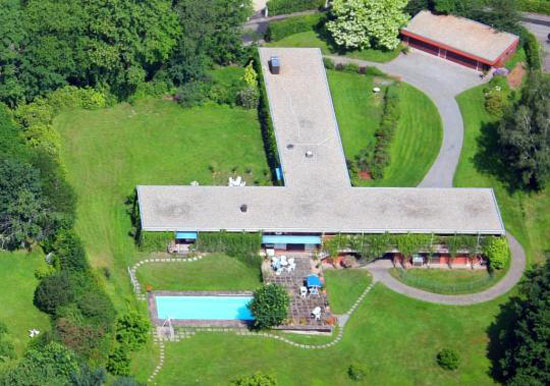 Inside, you'll find a house well-preserved, with tiling and mosaic floors from room to room, Eiermann-designed carpets and furniture still present in the property and of course, the overall look and feel of the place hardly disturbed over the decades. This is something special.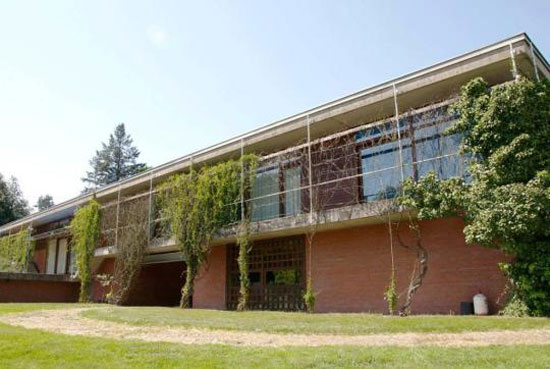 We don't have a complete breakdown of space here, but the property is laid out over two floors, with six bedrooms in total and plenty of open plan living space to enjoy. The entire internal space is around 270 sq. metres.
Interested? Well, check that piggy bank. This place is on the market for €4,100,000. More images in the gallery.
Find out more at the Immobilien Scout 24 website
Property Location