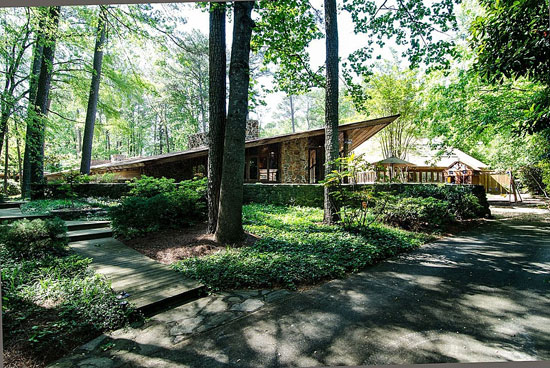 I think there's around 30 photos of this place and I've found it impossible to cut the number down for the site. With that in mind, I would highly recommend you give the full set a whirl, as this 1960s Robert Green-designed midcentury modern property in Atlanta, Georgia, USA is something of a stunner.
Described as 'historically significant' by the agent, you could also call it vast. 2,147,483,647 sq ft according to the details of this 1962 build. If you need space, this has it – and a lot more.
The house is the work of Robert Green, who, as you might have guessed with a look at the interior, was a student of Frank Lloyd Wright. In fact, I half expected this to be all about the exterior, but once inside, that mix of wood, natural and built-in furniture takes this place to an even higher level. Rare to find a house you can buy without worrying about the furniture!
As for that space, the house is said to sit on a double lot, with the main house sitting alongside a separate two-storey guest house. Yes, if you buy this, you don't need to worry about visiting friends and family getting under your feet. There's a pool house (with kitchen/bath/sauna) too, as well as a pool, of course.
As for the main house, that offers eight bedrooms and four bathrooms to play with (or clean), along with plenty of open plan living space, that quirky kitchen, a games room, family room, dining room and much, much more.
More details on that layout and specifics at the agent's site, where you can also put in an offer of around £851,864 if you want to take ownership of this place.