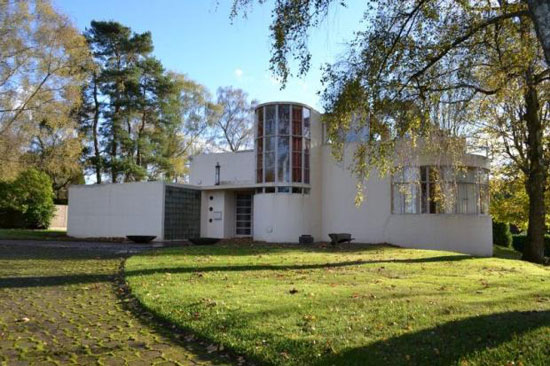 Thanks once more to @stefiorazi for spotting a grade II-listed gem on the market, this 1930s Amyas Connell and Basil Ward-designed Usherwood art deco property in Abinger Hammer, near Dorking, Surrey. If you haven't got plans for this weekend, there's an open day for the place scheduled too.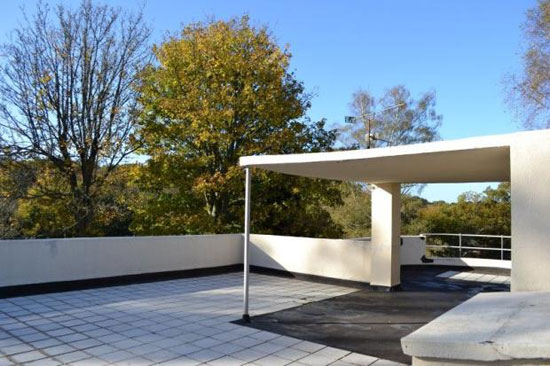 One of the most striking houses we have featured in a long time, Usherwood was designed in 1934 by Amyas Connell and Basil Ward, later to become the Connell Ward and Lucas Partnership. The name, incidentally, is down to the first owner. That was Tom Usherwood, a commercial artist and friend of one of the architects.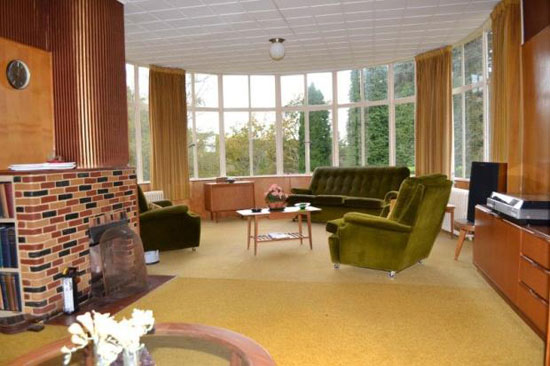 Usherwood isn't the biggest of houses, described as 'a bungalow constructed with four inch concrete walls', insulated internally with celotex boards. The windows are of mild steel manufactured by the Lion Works in Guilford and the flat roof is made of concrete.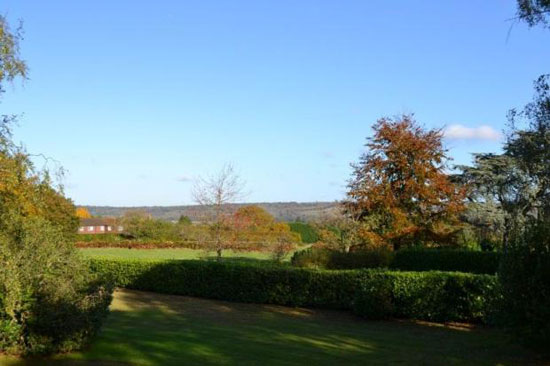 Notable architectural features include the glazed semi-circular tower at the front with internal staircase leading to the roof terrace with concrete sun canopy. From here, you get views over fields to the North Downs and to wooded hills. The west elevation includes a large semi-circular bay window  too, which gives views over the extensive gardens. The property stands in around 1.22 acres.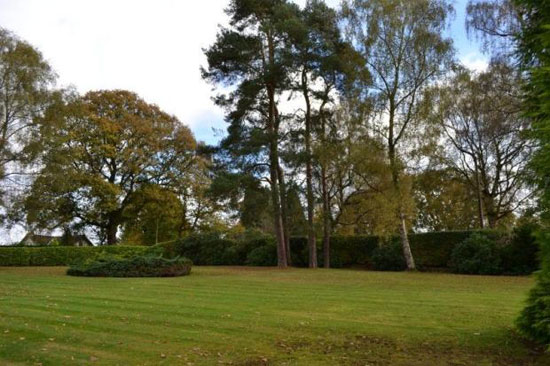 Frustratingly, there are few pictures available from the agent, but we do get a breakdown of the accommodation, which is made up of two double bedrooms, a bathroom, inner hall, an entrance area with cloakroom, a largew open-plan living room, a kitchen/breakfast room, a boiler room and an attached workshop and garden store. Outside, you get the previously-mentioned gardens, along with a three-bay car port.
The house looks in need of some updating, but as this is grade II-listed, you will have to be sympathetic (which is no bad thing). That 'open house' is Saturday 10th November 2012, in the rather narrow window of 11am – 1am.
If you want to put in a bid, the price is £595,000.