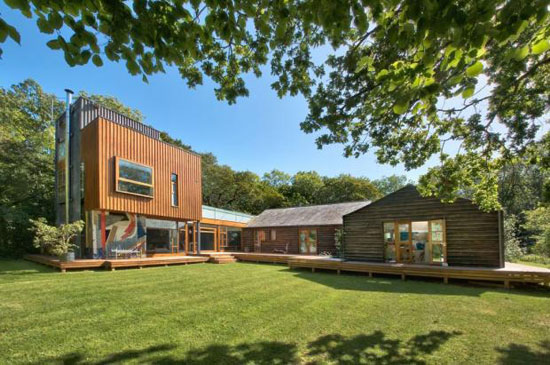 I know there are often valid reasons for selling, but I am amazed that so many houses featured on the Grand Designs show go on the market so soon after being built. The Tree House four bedroom property in Binstead, Isle of Wight (aka Tane) is another addition to the list, built in 2010 and on the market in 2012.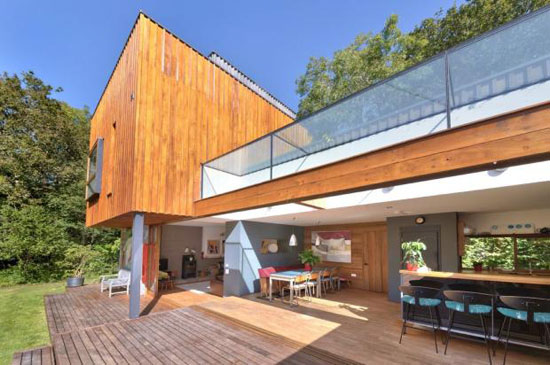 You can watch the episode it was featured in right now on the Channel 4 website, which shows the couple behind it buying an old bungalow, then transforming it into their dream home with one eye on it blending the new place into the surrounding woodland.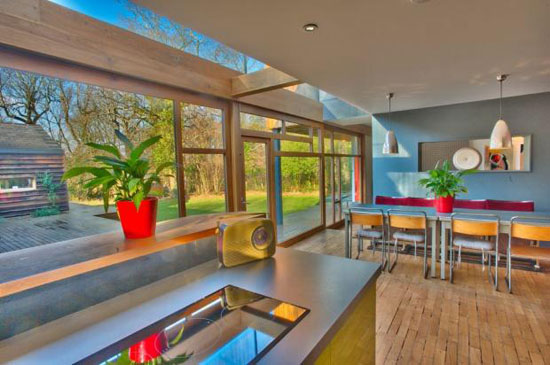 Alternatively, you can check the sales listing for the end result, a house that is now incredibly distinctive and contemporary. It was also nominated as one of Kevin McCloud's Top Ten Grand Design Projects and won the Architect's Journal Small Build Award 2011 and the RIBA 2011 (Isle of Wight) Award. Not bad for a conversion of a fairly average single-storey residence.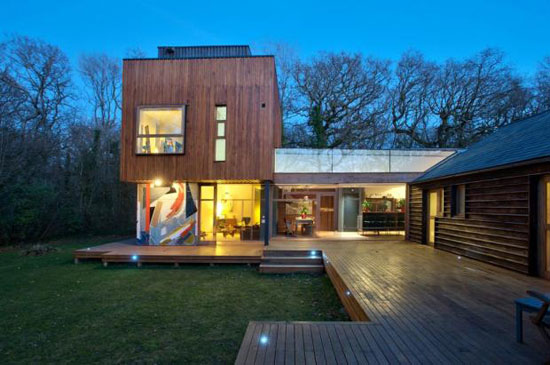 Sat in ancient woodland and just a short walk to the beach, the house is very much geared to its current owners' needs, but a lot of the space is flexible enough to swap around if you don't happen to be an artist in need of a studio.
Once inside the American walnut door, you'll find a main living space that includes a kitchen/diner with large sliding doors that open the whole of the side of this room to the garden, with a glass ceiling panel boosting light in to this room and the adjacent sitting room. There is an additional reception room, a utility room and two bedrooms also on the ground floor.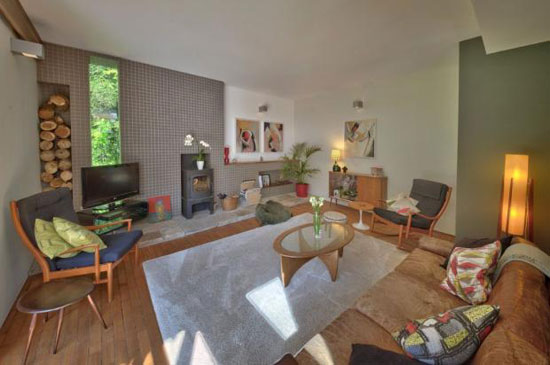 A western extension to the building offers a self-contained work space, comprising a large artists studio and a separate office, along with other 'flexible' accommodation. A tower houses a 'luxurious' master bedroom suite overlooking the trees with its own terrace, and on the first floor below, you'll find a dressing room and a wet room with huge shower and a sunken bath looking out over a further roof terrace.
That's only half of the story, with high end finishes and clever detailing throughout. See the full listing to take in all of that. If the house and the move to the Isle of Wight appeals, you'll need to find somewhere around the £1,000,000 to secure this place.