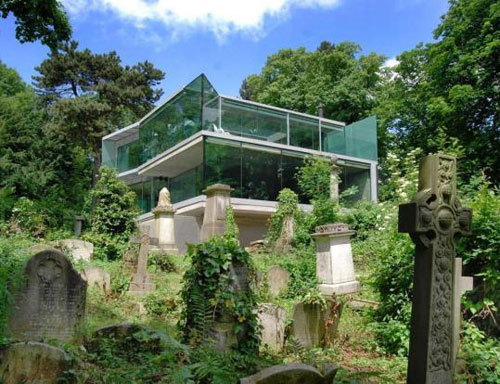 I couldn't resist featuring this house, primarily because I love the contrast between old and new with this four-bedroom house near Highgate Cemetery, London, N6.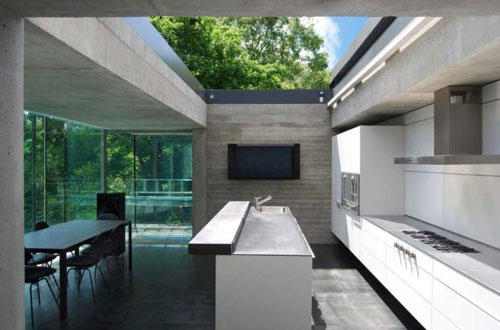 Fans of old graveyards might recognise it as Highgate cemetery, with this stunning modern house overlooking the ancient burial ground, for better or worse. It's certainly atmospheric.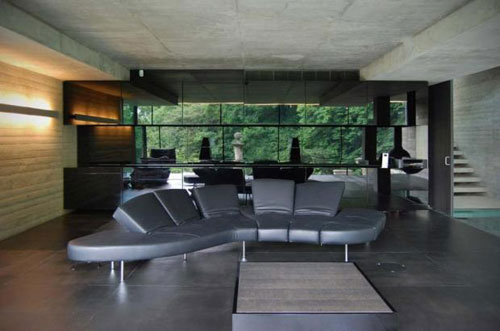 The house itself is a complete contrast – modern and award-winning. Specifically, the winner of a 'RIBI architecture award' apparently, although I am sure that should be RIBA.
Either way, this four-bedroom end terrace, with its glass walls and granite floors, has an award and looking at it, that is hardly surprising.
All that glass means unbroken views all around, with a private patio and terraces offering more open space.
Inside, you'll find a kitchen/dining room, four bedrooms, four bathrooms, a music/entertaining room, cinema room, and a garage. There's even an electronic retractable roof. Privacy? You'll have to book a viewing to find out about that.
It's a rental rather than a buy, if you want to live here, you'll be looking at £3,950 per week. That's a lot of money, but this is a lot house and one with serious impact.

Find out more at the Rightmove website